The Nba Players Union Grabs The Ball
With a lockout looming, it may try suing the league
Aaron Bernstein
Michael Jordan may soon bow out of pro basketball, but not before the Chicago Bulls superstar takes one last jump shot against the National Basketball Assn.
Three years ago, Jordan and New York Knicks center Patrick Ewing pushed the National Basketball Players Assn. to adopt a hardball labor strategy in an attempt to fend off the demand by NBA owners for a player salary cap. Their plan: disband the player's union, then file a federal antitrust suit against the NBA.
Sure, it sounds crazy to junk the union for a better labor pact. But sports leagues are vulnerable to antitrust suits, because owners collectively limit some players' salaries through caps. And a 1992 federal court ruling involving the National Football League found leaguewide labor rules are exempt from antitrust law only if owners are in a bargaining relationship with a union. So no union, no antitrust exemption.
WHO'LL FLINCH? It was a clever strategy. But in 1995, not enough players would go along. The union swallowed a new contract and a new ceiling on salaries. Now, the NBA wants an even lower cap and is threatening to lock out players on July 1 unless they agree. But this time, a more united association--with Ewing as president--seems ready to embrace decertification.
Which side will budge first? Both will suffer if there's no season: The players would have no pay at all. And the NBA will be facing an uphill legal battle. After all, the NFL was forced to compromise on its salary restrictions after a jury ruled that players could decertify their union and bring anti-trust charges.
More broadly, both sides run the risk of damaging the public image of basketball--the only major sport that has never alienated fans with a messy labor shutdown. A delayed season could dent the NBA's stellar record of fast revenue growth. "Decertification is just a bargaining tactic; the only way out is to negotiate a fair deal," says NBA Commissioner David J. Stern.
Stern is ready with his own tactic if players decertify. His plan: ask the National Labor Relations Board to charge the union with failing to bargain, as federal labor law requires. If the board agrees with the NBA, players couldn't argue in court that their union has been disbanded.
The NBA is holding firm because the tighter cap it won in 1996 hasn't worked. Salaries have jumped from 46% of league revenues in 1994 to 57.5% this season (chart). In March, unhappy owners reopened the 1996 pact. In addition to a lower salary cap, they want players to abolish the so-called Larry Bird exemption. The clause allows teams to exceed the cap to resign their own players, as the Bulls did to pay $33 million for Jordan this season. This has driven up salaries and produced a leaguewide loss of $44 million, NBA officials claim.
The players don't buy the NBA's numbers. They also point out that a fat new TV advertising pact, worth $2.6 billion over four years, will lift NBA revenues to $2 billion next season, up from $1.74 billion this year. So even if salaries jump by 20%, to 60% of revenues, the league would still have $60 million more left over than it did this year.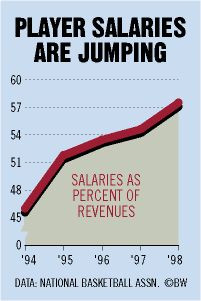 The union has more unity now than in 1995 to make its position stick. Besides having the popular Ewing as its president, it has rehired Jeffrey L. Kessler, a partner at New York law firm Weil, Gotshal & Manges. Kessler had helped to plan the 1995 decertification attempt and was a key architect of the football players' lawsuit. This season, the association's director, G. William Hunter, got a majority of players to authorize the union to disband if it sees fit. "The owners are forcing a battle over something they know the players won't agree to, which is a hard salary cap," says Kessler.
If the NBA does lock out the players, the union leaders probably will take a vote on decertification at their annual meeting in Hawaii on July 6. But the real crunch won't come until the fall, when teams must line up players for the new season. If no one has budged by then, you may see more fancy maneuvers in a law court than on a basketball court.
Before it's here, it's on the Bloomberg Terminal.
LEARN MORE