Mexico: Why Pemex Is In A Pinch
It needs capital badly, but it won't sell stakes to foreigners
Geri Smith
After years of peso pinching, Petroleos Mexicanos (Pemex) finally got what it wanted: approval for its most aggressive investment program in two decades, one that would dole out $20 billion from 1997 through 2000. Officials of the state oil monopoly began retooling aging refineries, boosting natural gas output, and sending billions of dollars in fresh oil revenues flowing to the hard-pressed Mexican government.
But then came this year's plunge in oil prices (chart), and the government got cold feet. It clipped Pemex' planned $8 billion in investment this year by $700 million--and more cuts are on the way. Although Mexico agreed on June 24 to join OPEC members in trimming output to raise oil prices, the move seems unlikely to improve the outlook much for the market, or Pemex itself. "Pemex is a mess because spending cuts put it well below the spending levels needed to improve exploration, production, and refining," warns Rogelio Ramirez de la O, an energy consultant in Mexico City.
Indeed, a mix of falling oil prices and Mexican nationalism has Pemex in a bind. With nearly 32% of Mexico's $100 billion in tax revenues flowing from Pemex oil fields and fuel sales, the state should be doing all it can to reduce Pemex' notorious inefficiencies. But that's not the way things work in Mexico's oil patch. Boxed in by its social commitment to provide jobs, Pemex won't shrink its 114,000 workforce to save money. And a full 60 years after its nationalization, the proud monopoly has no intention of raising much-needed capital by selling stakes to foreign companies.
Such stubbornness puts a strain on the Mexicaneconomy. Pem-ex will have to spend some $1.4 billion to import 25% of the gasoline used by Mexicans this year. That hurts at a time when revenues are expected to fall as much as 12%, to about $28 billion, by yearend. Over the next decade, Pemex will need some $55 billion to develop reserves and build refineries to meet demand at home, says Moody's Investors Service.
Mexico is far behind its Latin neighbors when it comes to using outsiders' money to spur oil revenues. Venezuela's state-run oil monopoly, PDVSA, has been auctioning off tracts to foreign oil companies for exploration for two years. Brazil is also inviting in outsiders to tap its oil potential. Pemex Chief Financial Officer Juan Manuel Romero argues that Mexico's reserves are so easy to exploit that Mexico doesn't need foreign equity participants. "Here we wouldn't be sharing risk, we'd just be sharing profits," he says. But, he admits, with oil prices plunging, Pemex will now have to borrow up to $7 billion on international debt markets to finance its investment program over the next two years.
SMALL STEPS. With privatization taboo, Pemex has taken smaller steps to lure foreign partners. Last fall, it awarded a $1.6 billion contract to a group including Korea's Sunkyong Engineering & Construction Ltd. and Germany's Siemens to renovate its Cadereyta refinery in Monterrey. Pemex also accepted a $1 billion bid from a group led by Britain's BOC Holdings to build, own, and operate a nitrogen-injection plant that will pump gas into wells to boost production at the Cantarell field. And Mexico is seeking investment in pipeline construction and natural-gas distribution. Some $5 billion in contracts could be awarded over the next five years.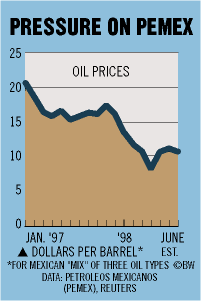 There are some signs that the pressure on Pemex may eventually force it to change. A recent opinion poll showed that 43% of Mexicans believe Pemex should remain under state control but act more like an efficient corporation. Some officials want to add prominent businesspeople as independent directors to Pemex' board. Others would like to spark a public discussion on private investment in Pemex. "Now that Mexico has a multiparty political system, these things can be discussed," says Energy Undersecretary Jorge A. Chavez.
With oil revenues evaporating, Mexico may have to speed up the debate. The government has already cut the 1998 federal budget twice, by a total of $2.8 billion. Another cut is expected by mid-July. Budget worries have depressed the stock market and weakened the peso. Politicians still see oil as part of Mexico's patrimony. If government finances weaken, they may want to look at oil as just another commodity.