Italy: Another Victim Of The Asian Flu
By
The unexpected dip in Italy's real gross domestic product highlights how--just as in the U.S.--Europe is taking a bigger hit from Asia than anticipated.
Italy's real GDP slipped 0.1% in the first quarter vs. the fourth. A few special factors contributed to the decline: There was one less workday, and the government began to phase out its car-buying incentives in February. But the bigger and longer-term drag on growth was a sharp 1.6% drop in exports, which account for about one-quarter of Italy's economy (chart). And since imports rose only modestly, the foreign-trade surplus narrowed sharply for the second quarter in a row.
Moreover, the spring quarter began on a weak note as Italy's trade surplus with nations outside the European Union fell again. So far in 1998, exports to Japan are down 10%, while shipments to Asia's newly industrialized economies have plunged 24% compared with the first four months of 1997. The export drag has hit industrial production hard. Output fell 0.2% in April, and a preliminary government report says production for all of the second quarter will likely be down 0.6% from the first.
Anemic growth comes as inflation is falling, even though the lira weakened sharply from October, 1997, to April of this year. Consumer prices in Italy's major cities rose just 1.8% in June compared with a year ago.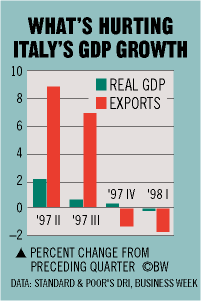 To be sure, other data point to some optimism. Industrial orders are rising, consumer sentiment surged in May, and the jobless rate, while at a high 12.2%, may have begun to fall. However, the GDP drop raises the odds for another interest-rate cut by the Bank of Italy, which has trimmed rates three times in the past year.
The hope is that lower borrowing costs will spur capital spending, which increased 1.3% in the first quarter. The downside is a possible reversal in the recent strengthening in the lira against the currencies of its major trading partners. But the BOI seems willing to take that inflationary risk in order to bolster economic prospects at home.