`Hong Kong Has Lost Its Touch'
The economy is tanking, and things could get worse fast
by
It was only a year ago that Hong Kong was awash in light. As the British colony prepared to return to Chinese sovereignty, dazzling technicolor displays marked the occasion. Now, 12 months later, the neon and fireworks are a dim memory. There's little to celebrate in grim Hong Kong.
Yes, Chinese President Jiang Zemin and U.S. President Bill Clinton are coming through to mark the anniversary, and the territory is about to open a $20 billion airport. But the economic news is going from bad to worse (charts). Hong Kong has plunged into its first recession in 14 years. Unemployment is surging. Property prices have fallen by half. Although companies from banks to retailers are retrenching and switching strategies, analysts predict a jump in bankruptcies and bad loans in the second half. "The mystique of Hong Kong is fast disappearing," says Peter Lau, CEO of clothier Giordano International Ltd. "Hong Kong has lost its touch."
A desperate Chief Executive Tung Chee-hwa is resorting to drastic measures. He announced a $4.1 billion economic-stimulus plan aimed at shoring up the failing property market, by curtailing sales of government land, and pumping liquidity into the banking system. It freezes upper-tier civil-servant salaries, provides property-tax rebates, and reduces taxes on corporate bank deposits.
In the midst of the crisis sweeping Asia, Tung is struggling to maintain the Hong Kong dollar's peg to the U.S. dollar to keep the territory solvent. That has become harder in recent weeks, as the yen has fallen and as worries about China's ability to avoid devaluation have grown. The high interest rates needed to defend the Hong Kong dollar have wreaked havoc, and the Chief Executive is feeling the heat from Hong Kong's jittery business and political elite.
The problem is, there's little Tung can to do except try to ease the pain. The property cartel that has long dominated the economy is weakening. Banks with huge exposure to the property market are watching warily as homeowners who bought property in the past two years are stuck with negative equity. And Tung's pro-business political allies, who suffered big losses in May elections, have even joined forces with Martin Lee's Democrats to denounce his policies. With another election less than two years away, the government is especially keen to blunt criticism that it has done little to stem the recession.
PROTRACTED SLUMP? Tung's new measures come just a few weeks after an earlier rescue plan failed to spur a recovery. These are likely to meet the same fate. Standard & Poor's Corp. is reviewing the credit ratings of a dozen Hong Kong blue-chip companies citing "the growing likelihood of a protracted economic downturn."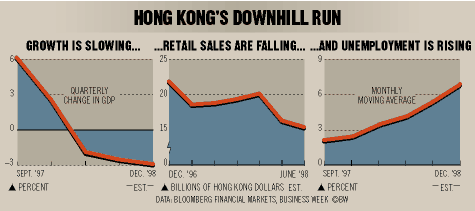 In fact, Tung's plan may make things worse. It calls for a budget deficit worth about 5% of Hong Kong's gross domestic product. Currency speculators might see that as a sign of weakness and attack the Hong Kong dollar, causing interest rates to spike again. "That could wipe out whatever positive impact is generated from the budget deficit," cautions Dong Tao of Credit Suisse First Boston Corp., who sees unemployment rising to 7% by the end of the year. And to compensate for the loss of revenue from land sales, officials are dropping hints that the government might need to institute a new sales tax.
The property collapse--and overnight interest rates as high as 16%--have led banks to halt new lending. Banks have built up a staggering exposure to the real estate market, with nearly half of all loans in the property sector. Only about 2% of loans are nonperforming, but the number could be 8% by next year. "The banking system is in deep trouble," says Peter D. Everington, bearish chairman of Hong Kong's Regent Fund Management Ltd. If property prices fall much more, "nasty things will start to happen." As if they haven't already.
Before it's here, it's on the Bloomberg Terminal.
LEARN MORE