Connecticut: The Promised Land For Privatization?
As its state government moves to farm out info tech, suppliers drool
Wendy Zellner
Imagine renewing your driver's license from the comfort of home, using your computer. Or government agencies with the ability to share information, avoiding such debacles as a foster family charged with abuse by one agency being licensed to offer day care by another. That's the vision that is being offered to voters by Connecticut Governor John G. Rowland. He wants to hand over virtually all of the state's information-technology systems, covering some 65 agencies, to a private company in a seven-year, $1 billion deal--the most sweeping government outsourcing effort by any state. "I want our government to be smarter, better, faster," says Rowland.
So did governors in other states who have considered--but backed away from--major outsourcing deals, a practice already common in the private sector. In Indiana and Iowa, governors abandoned such moves after facing fierce opposition from other politicians and employee unions. Rowland, a popular Republican, has faced nearly two years of efforts to derail his privatization move. "It's been pretty brutal at times," admits Gregg "Rock" P. Regan, the state's chief information officer.
A FLOOD? But Connecticut could be on the verge of a breakthrough. In July, a state panel is expected to finally choose a winning bidder, which will move forward to cement a contract. That could lead to a flood of similar deals in other states. "We think there are at least 20 states that will follow" within the next four years, predicts Howard Anderson, managing director of Yankee Group Inc., a Boston-based technology consulting firm. "They can probably each save 15% [on information-technology spending], and that's the low-hanging fruit." Connecticut alone spends about $250 million a year on information technology and expects to save about $50 million annually.
The big guns of the nation's $149 billion information-technology services business are eager to penetrate the market offered by state governments. Computer Sciences Corp. of El Segundo, Calif., which is bidding on the Connecticut contract, figures that the state outsourcing market could reach $12 billion annually in five years. CSC is competing with Electronic Data Systems Corp. and IBM to nail down the pivotal Connecticut deal.
EDS has been running "advertorials" in the Hartford Courant promising job security and better career opportunities for state technology workers. EDS also vows that it can provide "uncompromising safeguards" to protect data privacy--countering concerns raised by opponents of outsourcing. And it has announced that, win or lose, it will open a new technical center that it says would create 300 jobs in downtown Hartford. William M. Dvoranchik, the EDS executive spearheading the company's Connecticut bid, says EDS Chief Executive Lester M. Alberthal Jr. flew in last July for the company's oral presentation of its bid. IBM's chief wasn't there, "and they're only a couple of miles away," he snipes. "We're not going to respond to that," says an IBM spokesman.
BIG HURDLE. But CSC may have the inside track. In March, it disclosed that it had offered an "alternative" bid in partnership with the Connecticut State Employees Assn., as well as a separate bid on its own. The union, representing about 450 state technology workers, has also submitted its own bid. "One of the first hurdles that has to be overcome in the privatization is to win the hearts and minds of the people," explains Paul M. Cofoni, president of CSC's technology management group. Adds Robert D. Rinker, director of the union: "It's a colossal mistake on the part of the state to exit the business because it's never been done before." A partnership, he says, would let the state disentangle itself more easily if outsourcing flops.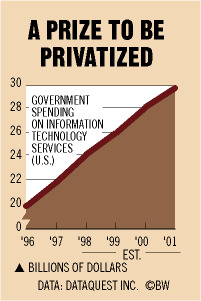 Regan insists that the competition isn't over, despite favorable comments about the CSC-union bid by Rowland and some Democratic lawmakers. But the union has vowed that if anyone else wins the contract, it could try to block a deal. Indeed, any pact still could be vetoed by a 60% vote of the state legislature. Then the anointed outsourcer must turn Connecticut into the technology showcase Rowland has promised. "Whoever wins it had better do a good job, because this is going to be the poster child," says consultant Anderson. And if it can work for the states, could Washington eventually fall in line, too?
Before it's here, it's on the Bloomberg Terminal.
LEARN MORE