Class Act: A Reporter Turns Principal
It was much like any other school day at Chicago's Rudyard Kipling Elementary. A jumble of blue-and-white-uniformed students playfully pushed and shoved outside their single-story schoolhouse as they waited for the 9 a.m. bell. Except this day, the 350 kids had a new acting principal--me. What, I asked, could I do to make their day more enjoyable? Giggling and crawling over my back as I hunched down, they volunteered: pizza, no homework, a visit from Michael Jordan.
Inside, the teachers gave me a different wish list--air-conditioning, a new gym, a full-time librarian, a music teacher, better computers. How about keeping gangs away from the northeast corner of the property, one suggested. An eighth-grade teacher asked hopefully: "Can you help motivate my kids?"
Unfortunately, as principal for a day, I could only listen and observe. What I saw provided insight into--and appreciation of--the extraordinary balancing act of daily requests and long-term challenges that Kipling's real principal, Corene S. Washington, and her staff must manage.
That insight was a goal of the "principal for a day" program sponsored by Mayor Richard M. Daley and Working in the Schools, a nonprofit education advisory group. The program brought 677 volunteers from business and the public sector into direct contact with one of the nation's most widely watched educational reform efforts--a bid to improve test scores and crack down on laggard students and teachers in Chicago's 559 public schools. Among my fellow principals: Playboy Enterprises' Christie Hefner and Chicago Bulls and White Sox Chairman Jerry Reinsdorf. The visits showed that arduous tests lie ahead. "I was definitely struck by how reinvigorated the principals, faculty, and parents were, and the headway they've made," reflects Hefner. "But I was also struck that there aren't enough resources for teachers, training, or computers."
Three years ago, the state legislature gave Daley sweeping powers to restructure the schools. Strict accountability standards and special course work--both Daley initiatives--appear to be paying off. Students who fail to make the grade face summer school and may be held back. The school board has fired 38 principals at poorly performing schools. By this fall, 300 schools will have after-school "lighthouse" programs with tutoring, meals, and recreation.
Chicago schools still lag the national averages in reading and math. Just 34.7% of elementary school kids test at or above the norm in reading. For high school students, the figure is 28.6%. Still, progress on other fronts is impressive. Daley's handpicked schools chief, Paul Vallas, has rooted out corruption, balanced the budget, and regained Wall Street's confidence, allowing him to raise $1 billion-plus in bonds as part of a $2 billion capital program. "The business community thinks the system is on the move after 40 years of bureaucratic dysfunction," says John S. Ayers, executive director of Leadership for Quality Education.
At Kipling, located in a lower-middle-class, African American neighborhood on the South Side, gains are measurable if uneven. Washington, who has spent 33 years in the system--five at Kipling--is grateful for funding for summer school and the lighthouse program and applauds the tone set by the end of automatic "social promotion" of kids into higher grades. She has fired up her colleagues. "The stereotype that black and poor kids can't learn is being defeated every day," said first-grade teacher Susan Artwohl. From what I saw in 10 or so classrooms, I'd echo her sentiments.
The bright yellow hallways were filled with signs of Washington's passion for reading and improving reading scores. A paper chain, each link representing a book read by a student, stretched around the school. When it went around twice, Washington said, she would don top hat and tails and dance in the parking lot--a promise she later carried out.
I made no such promises, but I did read to 20 first-graders two books that I had read to my own kids--The Giving Tree and Where the Wild Things Are. Hands shot up when I asked what was taking place at a plot turn. Students giggled when I stumbled over a few words. Midway through the day, we got word of a payback: 39% of Kipling students were now reading at or above the national average, vs. 34% a year ago. But Kipling's high math scores had fallen. Washington wondered if that was the result of overconcentration on reading.
REPRIMANDS. Since my day mirrored Washington's, I attended to a disciplinary case. A second-grade boy had been sent to my office for asking if a classmate was a "virgin." "I was talking so fast, it just came out," he sheepishly offered. After my stern warning, he returned to class.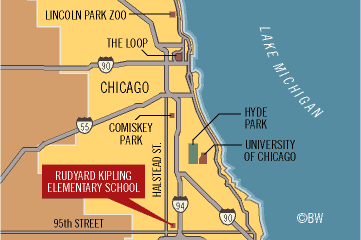 But along with the reprimands, there were plenty of rewards for students and teachers. I decided which top-performing students would receive red-and-black Chicago Bulls pencils. And I drew from a hat a $10 gift certificate, which went to one of many teachers with perfect attendance.
Some problems I couldn't begin to tackle--gangs moving into the area, for instance. When school let out and I took my place as a safety monitor on a corner, a teacher pointed to a man across the street wearing a red cap, a known gang member and drug dealer.
As I relinquished my principalship to Washington, I found myself shaking my head--in admiration for her pluck, her determination to salvage public education from the naysayers, and her accomplishments against social and financial odds that outsiders can barely fathom.
Before it's here, it's on the Bloomberg Terminal.
LEARN MORE