Tera's New Breed Of Supercomputer
by
A supercomputer? Against all odds--and amid widespread skepticism--that's what Tera Computer (TERA) has produced. In April, it delivered its first to the San Diego Supercomputer Center, a facility funded by the National Science Foundation. Will this turn tiny, unknown Tera into a supercompany? Some investment pros believe it will.
Tera's revenues are expected to jump from zero last year to $12 million this year and to $62 million in 1999, says John Jones, an analyst at Salomon Smith Barney. He expects Tera to have earnings of 58 cents a share in 1999.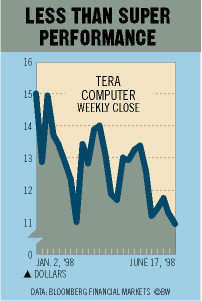 Skeptics point out that there have been no big leaps in supercomputer technology in recent years. The leader in supercomputer technology, Cray Research, was acquired by Silicon Graphics in 1996. But the Defense Dept., seeing the need for a new generation of supercomputers, funded Tera to the tune of $20 million. Defense is interested in supercomputers to speed up the design of aircraft and weapons systems and to simulate nuclear blasts, says one Tera insider.
Tera CEO Jim Rottsolk thinks that analysts' estimates may turn out to be conservative. He expects the initial San Diego order of $4 million will rise to $8 million by yearend. By next year, he figures Tera's revenues will rocket to between $50 million and $80 million. He says several auto and aerospace executives have approached him for possible orders, which he figures would carry Tera into an even much larger market.
Before it's here, it's on the Bloomberg Terminal.
LEARN MORE