More Questions For A Dreyfus Fund Manager
Did Michael Schonberg have a second conflict of interest?
by
On Jan. 28, 1997, an obscure Houston manufacturer called American Medical Technologies Inc. registered 5.4 million stock-purchase warrants with the Securities & Exchange Commission. In the world of micro-cap stocks, warrants are a kind of gold-plated discount coupon that allow favored investors to buy stock at below-market prices. In this case, the 100 warrant holders were getting a chance to buy American Medical shares at 50 cents to $1.25 each--for a stock that was trading at about $2.
But this innocent-looking SEC filing had a time bomb buried in its pages. One of those warrant holders was a Dreyfus Corp. portfolio manager named Michael L. Schonberg. According to the filing, Schonberg had 20,000 warrants, and the registration meant he was now able to cash them in. The value of those warrants depended largely on the ability of the stock to attract investors--and on that score, American Medical was in good shape. Only a month after the warrants were registered, another filing showed that a 350,000-share stake in the obscure penny stock had been taken by the Dreyfus Aggressive Growth fund--managed by Michael L. Schonberg.
Did Schonberg's personal position in American Medical warrants influence his decision to buy its stock for the fund? Did he violate the same securities laws that resulted in the 1992 criminal conviction of a Fidelity fund manager who profited from warrants while buying related securities for her fund? These are just two of the questions raised by Schonberg's position in the warrants of American Medical, which has since changed its name to Tidel Technologies Inc. And they come at a time when Dreyfus is coping with recent publicity surrounding Schonberg's personal position in another of his funds' major holdings--Chromatics Color Sciences International Inc. (BW--June 22).
"STRINGENT POLICY." As it has in the Chromatics affair, Dreyfus is standing firmly behind its fund manager. Schonberg declined comment, but Dreyfus spokeswoman Patrice M. Kozlowski issued a statement that its inquiries to date show that Schonberg has not violated the company's "stringent personal securities trading policy." However, Kozlowski would not respond to questions regarding Schonberg's position in American Medical Technologies, or provide BUSINESS WEEK with a copy of its code of ethics. Kozlowski said that further comments would feed into the "press campaign" of a short-seller in Chromatics, Manuel Asensio, of the New York-based Asensio & Co. Asensio has been critical of Schonberg's Chromatics dealings and makes passing reference to his American Medical position on his Web site, but said he has never sold short American Medical shares nor sought publicity over Schonberg's holdings in the company.
If Dreyfus is touchy over the subject, it's understandable. As with Chromatics, Schonberg participated in the kind of deal that is accorded only a few favored investors in micro-cap stocks. But the circumstances surrounding the American Medical warrant deal are potentially more worrisome for Dreyfus and Schonberg. For one thing, unlike the Chromatics stock, which was purchased at cut rate, the warrants evidently did not cost Schonberg a penny. It is not evident from SEC filings when Schonberg obtained the warrants. Nor is it clear if he profited from them--or by how much. But if Schonberg managed to get $2.70 a share, the average price in 1997, exercising the warrants would have gained him instant profits of somewhere between $29,000 and $44,000.
Another unanswered question is fundamental: Why did he get the warrants? The company's filings say that the warrants "relate to grants made in connection with debt and equity issues, acquisitions, directors' remuneration, and various services rendered." Schonberg is not a director of the company and, unless he performed "services," that would seem to leave the other possibility--that he got the warrants as an equity "kicker" related to his personal ownership of other American Medical securities. If so, that implies he may have had other American Medical securities in his personal portfolio when he bought the stock for Dreyfus. Officials of what is now Tidel did not return phone calls.
ILLEGAL? Whatever the reason he obtained the warrants, Schonberg's purchase of the stock for the mutual fund may well have helped enhance the value of his personal holdings. Indeed, the price of American Medical stock did not decline significantly in February, 1997, as the warrants were being exercised--even though the company's own disclosures noted that exercising of the warrants might drive down share prices. However, Dreyfus filings do not indicate the precise timing of Schonberg's purchases of the stock for his fund. In any event, the 350,000-share purchase for Aggressive Growth was apparently his only purchase of the stock for Dreyfus. He sold off 100,000 shares for the fund between September, 1997, and March, 1998, when share prices were on the wane (chart).
All this suggests a conflict of interest. But is it illegal? According to securities lawyers, the Investment Company Act and other laws are far from stringent in their regulation of personal trading by fund managers. Funds also are required by law to have codes of ethics. In its statement, Dreyfus noted that, under its code, portfolio managers are "not prohibited from personally investing in companies in which funds they manage also may invest." But former Putnam mutual-fund group compliance chief Edward A.H. Siedle, now a private securities lawyer, observes that fund managers have another prohibition that could prove thorny--Section 17(e) of the Investment Companies Act. That prohibits fund managers from accepting "from any source any compensation other than a regular salary or wages from [the mutual fund] for the purchase or sale" of securities by the mutual fund.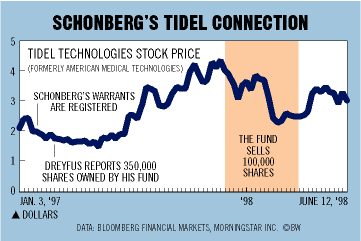 Siedle, a vocal critic of personal trading by fund managers, notes that Section 17(e) has had serious consequences in the past. In 1992, a former Fidelity Investments fund manager, Patricia Ostrander, was convicted of securities law violations for running afoul of that very law. A jury found she profited from stock warrants issued during a leveraged buyout engineered by Michael R. Milken in the 1980s. According to the court decision in that case, Ostrander invested her personal funds in a partnership that owned warrants, at the same time that she was buying related securities for Fidelity.
Scandals have been few and far between in the fund industry--and have never touched Dreyfus, a subsidiary of Mellon Bank. In its statement, Dreyfus noted that its "reputation of integrity speaks for itself." True enough. But Schonberg's actions, as outlined in SEC filings, raise serious questions. And unless Dreyfus can come up with a convincing explanation for those 20,000 warrants, the firm's reputation for integrity may be tarnished.
Before it's here, it's on the Bloomberg Terminal.
LEARN MORE