Fixing Glitches At A Software Star
Jeffrey M. Laderman
The saga of Project Software & Development (PSDI) has a familiar ring: A hot-growth company slips up, disappoints the Street at earnings time, and gets punished by investors. Project Software, whose output is used for managing factory operations, paid a high price for its errors. In just one day last year--Apr. 2--the stock tumbled from 31 to 15. It then fell further, to 11, ran up to 26 this year, and now trades at 21. Some pros insist the stock is destined to go higher.
One reason: Founder Robert Daniels, who holds 20% of the stock, recently took the reins from David Sample, the CEO who had succeeded him in 1996. "The board felt Sample wasn't aggressive enough in expanding the business," says analyst David Settle at brokers Loewenbaum & Co. He rates the stock a "strong buy."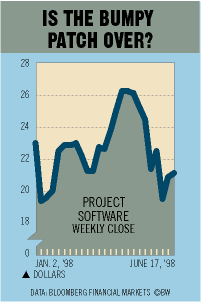 Settle says the company has corrected the management problems that led to the last earnings shortfall, adding that sales are growing as fast as before the nosedive. He estimates that the company will earn $1.50 a share in the next year, which gives it a price-earnings ratio of 14--low for an enterprise software company. The p-e drops to 10 if you take out the $5.50 a share in cash on the debt-free balance sheet.
One New York takeover player has been buying, betting that Daniels is getting the company ready to sell. Settle doesn't rule that out, but he says Project Software is attractive on its own merits, with a p-e only half its growth rate. His 12-month price target for the stock is 36.
Before it's here, it's on the Bloomberg Terminal.
LEARN MORE