Cendant Descending
First, an accounting mess, now, maybe a management rift
Amy Barrett
Cendant Corp.'s stock market comeback has suffered a comedown of late. In mid-April, the company--a darling of the bull market--startled Wall Street by announcing accounting irregularities that would force it to restate earnings. The stock plummeted 46%, to 19 1/16, in one day. But then Cendant seemed to be recovering as the stock rose to 25 by late April.
Now, it's losing altitude again. The reason? Investors are increasingly nervous about a possible management crisis at the company, which was formed last year by the merger of franchiser HFS Inc. and discount buying club operator CUC International Inc. Under that deal, HFS head Henry R. Silverman, now Cendant chief executive, and CUC founder and Cendant Chairman Walter A. Forbes are to swap jobs in January, 2000. Yet analysts and investors are hearing from insiders that the switch is no longer a sure thing. Some shareholders now worry that board members, including Silverman, will block the transition and perhaps create more turmoil at the company.
The root problem is the cost of adjusting results at some CUC businesses. The company estimates the adjustments will mean reducing 1997 net income by up to $115 million. The company hasn't specified what exactly is wrong with CUC's books, and the board's audit committee, which is performing an investigation, is expected to issue a report later this summer. The CUC operations, which sell memberships in discount buying clubs such as Shoppers Advantage, are believed to have recognized some revenues early and delayed recognizing some expenses.
Analysts are now figuring that the accounting-problem fallout will hurt Cendant's earnings in coming quarters, too. For example, since the company does not have current, audited financial statements because of the investigation, it is paying a higher rate on $3.25 billion in debt that it assumed in May to finance some acquisitions.
STRAINED RELATIONS. Several analysts say the debacle has severely strained relations between Silverman and Forbes. And while most investors don't believe Forbes knew of the accounting problem, they hold him responsible. "Walter either knew or should have known," says one large investor. "He doesn't have a leg to stand on."
A Cendant spokesperson says there is no change in the succession plans at the company. Forbes echoes that, saying: "I'm not leaving." Still, David P. Brady, a portfolio manager at Stein Roe & Farnham, a large Cendant stockholder, says Cendant executives in a recent meeting hinted that Forbes might not take the CEO slot as planned. Analysts fret that a move by directors to oust Forbes could provoke a disruptive battle for control.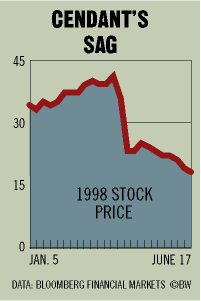 Meanwhile, the membership clubs may face margin pressure, due to rising marketing costs. That and the higher interest expense contributed to PaineWebber Inc. analyst Craig Bibb's cut in second quarter estimates from 32 cents per share to 23 cents. For the year, he has cut estimates by 10 cents, to $1.10. But Bibb cites the continued strong growth in former HFS businesses, including Century 21 Real Estate, and figures Cendant earnings can still expand by 20% a year.
That's not quite the 25% rate Wall Street had expected before the accounting bombshell. Nevertheless, if Silverman can get the business back on track--and avoid a management war--Cendant may see its stock pointed upward again.
Before it's here, it's on the Bloomberg Terminal.
LEARN MORE