U.S.: Household America Is Gaining On Corporate America
But how long can profits keep falling and wages keep rising?
By
After years of picking from an abundance of workers, companies in 1998 are finding it harder to fill their job openings. The shortage sets up an interesting dilemma in the economy and monetary policy: How can output continue to expand without inflationary pressures when the labor cupboard is growing bare?
The increasing shortage of workers was evident in the Labor Dept.'s look at May payrolls. Yes, nonfarm payrolls rose again, but the data showed that a record 64.2% of Americans are already at work (chart). Plus, the jobless rate remained at a 28-year low of 4.3%, proving that the dip to that level in April was no fluke. The jobless rate of college graduates is down to 1.6%, and even among high school dropouts, unemployment has fallen to 6.7%, from 8.2% a year earlier.
The high demand for labor is the key to the reversal of fortune going on between Corporate America and Household America. Wage growth is appreciably strong, and that's one reason why profits fell in the fourth quarter of 1997 and first quarter of 1998. How companies respond will determine the outlook for productivity, income growth, and inflation.
THE CONSEQUENCES of a tight job market were on the mind of Federal Reserve Chairman Alan Greenspan when he testified before the Joint Economic Committee on June 10. The chairman noted that the economy's combination of strong growth and low inflation has been both "impressive" and "extraordinary." Even so, he said, "I remain concerned that economic growth will run into constraints as the reservoir of unemployed people available to work is drawn down."
His main worry is that the demand for labor will push up wage growth so much that productivity gains won't cover cost increases. Then businesses will begin to raise their prices and bring the low-inflation era to an end. So far, Greenspan said, workers in this expansion have been slow to press for wage gains. While the overall tone of the speech was not hawkish, Greenspan warned that, "Monetary policy might need to tighten if [overall] demand were to continue to exhibit few signs of abating noticeably, thereby threatening to place still further strains on our labor markets."
What Greenspan realizes is that the strength of demand will not slow just because worker shortages put limits on output. If anything, the robust labor markets and their corresponding pay raises are helping consumers to spend at a greater pace than was expected for the second quarter. In addition, Greenspan said that financial conditions such as rising equity prices, available credit, and low nominal interest rates "are accommodating strong domestic spending."
Growth in the second quarter is being held down mainly because of slower inventory growth and a worsening foreign-trade deficit. But robust domestic demand is feeding a virtuous cycle: Income gains lift demand, which creates a bigger need to hire more workers, who get ever larger paychecks.
THE MAY EMPLOYMENT REPORT is the last one to be released before the Fed's next policy meeting on June 30 and July 1. And the data make clear that while Asia is hurting the goods-producing sector, demand for labor in the service sector remains quite healthy.
Payrolls grew by 296,000 in May, and April's gain was revised up to 302,000, from the reported 262,000. So far in this quarter, payroll gains are averaging 299,000 a month, much higher than the monthly increase of 208,000 in the first quarter.
Manufacturing jobs, however, fell 26,000 in May, the third drop in four months. The workweek recovered a bit, rising 18 minutes to 41.7 hours, but that gain followed four consecutive monthly drops in the workweek.
The factory layoffs reflect the fallout from Asia, as well as the slowdown in inventory-building in the second quarter after a record runup in the first quarter. Factory inventories in April rose 0.5%, but a large chunk of that was aircraft. At the wholesale level, inventories unexpectedly fell 0.6% for the month.
Before 1998, factory shipments grew far faster than the pace of inventories. Now, the growth rates are in better alignment, and the ratio of inventories to sales remains lean (chart). That suggests that while inventory growth is probably slowing, manufacturers do not consider their stockpiles excessive.
At the same time, wholesale inventories are outpacing sales. But the runup probably reflects an influx of foreign-made goods. So a drawdown in wholesale inventories may result in some slowdown in imports.
Foreign trade, however, is most likely subtracting from real gross domestic product growth in the second quarter. And the ongoing surge in the U.S. dollar hints that the trade gap could deteriorate in the second half as well. The dollar has strengthened some 12% against the yen since February, commanding more than 140 yen since June 8. The dollar's appreciation worsens the outlook for U.S. exporters at a time when demand from Asia is already falling.
The weakness in manufacturing has kept the total number of hours worked so far in the second quarter about even with its first-quarter level, but hours worked in the private-service sector are growing at a 2% annual rate, the same pace expected for overall GDP growth.
AND IT IS SERVICE PROVIDERS who are the biggest source of new jobs, with 291,000 jobs added in May. The healthy demand for service workers means that wage gains are rising faster in services than in factories. The average hourly wage in the nonfarm sector increased 0.3% in May, to stand 4.3% above its year-ago level. Service pay, also up 0.3% in May, has risen 4.8% over the past 12 months (chart).
Wages clearly are growing faster than either inflation or productivity gains. The Labor Dept. revised its first-quarter data to show that output per hour worked grew at an annual rate of 1.1%, better than the initial report of 0.2%. But compensation grew at a 4.2% clip, so unit labor costs grew 3.1% last quarter.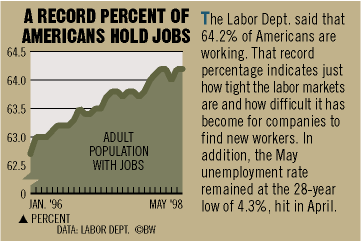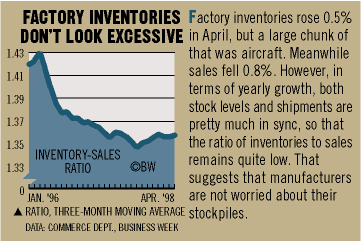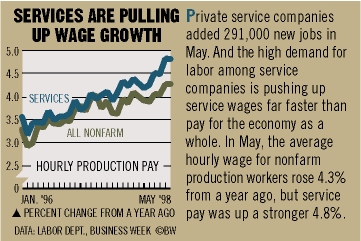 Over the past year, unit labor costs have risen 2%, leaving businesses with some tough choices. Companies can continue to watch their profit margins fall, or they can try to cut costs or raise prices. For consumers, of course, the larger pay raises support bigger increases in spending.
In fact, because consumer fundamentals look so strong, it's hard to project what will slow this economy. Keep in mind, there is no immaculate slowdown. Without a firm step on the brakes, such as a stock market correction, greater problems in Asia, or higher short- or long-term interest rates, this economy will not lose much power. And most worrisome to the outlook for profits and costs, growth will not ease enough to loosen the labor markets anytime soon.