business
U.S. Business Tests The Waters...As The Young Buy All Things American
Once Lebanon's sectarian strife ended seven years ago, big plans were made to rebuild. The ruin left by 15 years of war created huge opportunities for projects large and small. But since Americans were banned from traveling to Lebanon, hundreds of millions of dollars in deals for electricity, telecommunications, roads, and waste treatment went to German, French, and Italian companies, while U.S. execs sat home.
No longer. Last August, the U.S. State Dept. lifted the 10-year-old ban, and the American presence is growing by the day. U.S. companies such as Medtronics, Tellabs, Bechtel, and Carrier have opened regional offices in Beirut, and others are in the running for some of the choicest remaining contracts. In 1997, the U.S. overtook Italy as Lebanon's top trading partner, jumping in aggressively once Americans had legal clearance.
U.S. companies that have made the move to Lebanon haven't regretted it. One year after Citibank opened its doors, assets are up 290%, to $127 million. Tellabs Inc., a Lisle (Ill.) provider of networking for telecom companies, also has seen heady growth in little more than a year and has snagged contracts with two of Lebanon's three cellular-phone operators. "There's a shift in preference for American companies," says Joseph Haddad, Tellabs' regional sales director. "Before, there was a moral obligation to buy French, but no longer."
But the real money remains in lucrative infrastructure contracts. A proposed $1 billion proj-ect to bring liquefied natural gas from Qatar and build a pipeline from northern Lebanon to Beirut has Hunt Oil, Mobil Oil, and Brown & Root all hoping the project--now in early planning--will become a reality for bids. Radian International, a subsidiary of Dow Chemical Co., is one of the finalists that could land a $50 million to $100 million contract to clean up Beirut's waterfront landfill and transform it into marketable property. Says project director Raji Maasri: "The Americans have a good shot at it."
BODYGUARDS. Prime Minister Rafik Hariri is behind the push for American investment. In April, he sent a high-level delegation to the U.S. to convince skeptical banks and business leaders that Lebanon is a safe destination. Hilmi Ghandour, senior adviser to the Economy & Trade Minister, went on the trip and says the group sent a clear message: "Lebanon is back and open for business." Ghandour says Lebanon's low taxes (10% of profits), liberal business laws, and a workforce loaded with graduates of American universities make U.S. investment a natural fit. U.S. Commerce Secretary William M. Daley has promised to lead a trade delegation to Lebanon late this year or in early 1999.
American business may be bullish on Lebanon, but U.S. policy is still cautious. The embassy is a fortress sitting high on a hill outside Beirut. Memories of 1983's bombing of the embassy in West Beirut, which killed 63 people, are still fresh. Embassy workers live on the compound and don't go out without bodyguards. And while 10% of visitors to the country last year were Americans, most were Lebanese by birth coming home to visit or start new lives.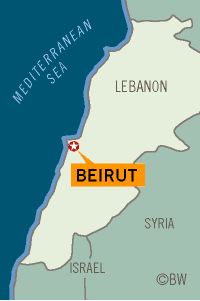 While the Indigo Girls wail over the sound system, the waiter at TGI Friday's tries to sell me on the steak. "It's USDA imported beef," boasts Anwar Najjar with a Brooklyn accent. The eatery--with American sports on TV--is just one of many catering to U.S. visitors and Lebanese youth hungering for anything American. "We get Americans in here all the time," says Najjar, 26, who returned from New York to work in his homeland for six months.
Down the Corniche, the Hard Rock Cafe can make the same claim. Thirtysomething Yanks drinking Michelob sit at the bar, while Lebanese families crowd tables overlooking the Mediterranean, quaffing Coke and wolfing down hamburgers. "This is a natural place for young Lebanese," says Hard Rock general manager Jihad Allabban, himself a Lebanese-American. Muhieddin Mishlawi, a private chauffeur, agrees: "America is this big dream--the youth here like anything American." With that kind of sentiment, U.S. business just may have an open door.
Before it's here, it's on the Bloomberg Terminal.
LEARN MORE