The Games Sony Plays
Can it use PlayStation to win mastery of cyberspace?
Irene Kunii and Steven V. Brull
A recent episode of the hit U.S. comedy show Friends tells it all. One of the characters offers to bear a baby for a childless couple. "I'm going to be giving someone the greatest gift you can possibly give," she says. Replies Chandler, the show's resident wiseacre: "You're going to carry their child and give them a Sony PlayStation?"
The Sony PlayStation. It seems that just a few nanoseconds ago, we lived in a world where video games meant Nintendo and Sega. Now, PlayStation's sales, profits, and--most important--its buzz are so strong that the 32-bit game machine has become a fixture in the popular imagination. Its quirky menagerie of sports, action, and cartoon characters has romped across four continents and made Sony Corp. the Master of the Game Universe--for now.
BANNER YEAR. Sony Computer Entertainment, the company's four-year-old game division, has sold more than 33 million units of PlayStation worldwide, along with 236 million game CDs. In the fiscal year that ended March 31, the PlayStation business accounted for $5.5 billion, or 10%, of Sony's worldwide revenue, but it chipped in $886 million, or 22.5%, of its operating income. Thanks to PlayStation and a weak yen, Sony notched up a banner year, with record operating income of $3.9 billion on record sales of $51 billion. "We've never had a business like this," exclaims Chairman and Chief Executive Norio Ohga.
That's impressive, especially because Sony stumbled into the game business almost by accident. Now, PlayStation is a moneymaker for the company, one of the few Japanese multinationals to shrug off the country's dire recession. More important, PlayStation has proven a point that Sony managers have long felt intuitively: that digital, interactive entertainment offers the only plausible future. In recent years, the company has produced a string of turn-of-the-screw product innovations from MiniDisc players to flatter television screens. Yet the margins on "boxes" get lower and lower. And none of these developments has unleashed either the profits or excitement of PlayStation.
Thus PlayStation has provided a glimpse of what the new Sony could be capable of--a company with great hardware that spawns even more exciting and much more profitable software. Sony wants to apply the lessons of PlayStation to its marketing and distribution of music, film, TV, and games on the Internet. And it wants to achieve something unheard of in the PC world--make it all as easy and crashproof as the PlayStation. Masayuki Nozoe, executive vice-president at Sony Pictures Entertainment, is one of the architects of this strategy. As Sony nurtures these new businesses, he says, "It will be a 3-to 5-year period of adjustment and then a 10-year cycle of real changeover."
Looking ahead, the company sees fresh profit streams in music and video downloaded from Sony Web sites straight to Sony home-entertainment systems. Movies from its Hollywood studios could morph into PlayStation and Internet games. As the innovations multiply, the PlayStation hardware itself could evolve. Imagine, muses Trip Hawkins, CEO of game-software maker 3DO Co., that you are shopping for the latest game console that doubles as a digital VCR: "What brand would a customer rather play movies on? Sony, Nintendo, or Sega?"
Yet the pitfalls in Sony's path outnumber the ones that beset its hyperenergetic game mascot, Crash Bandicoot. Challenge No.1: catch up with America's high-tech leaders, from Microsoft Corp. to Amazon.com Inc., which are running circles around Sony in cyberspace. Challenge No.2 (and this is the big one): stay ahead in the hideously fickle game business, so that PlayStation can bankroll all this development. Initially, Nintendo gave Sony plenty of competition, with its more sophisticated N64 console. Now, Nintendo of America Chairman Howard Lincoln admits, the N64 has lost some U.S. market share. But he says a very strong summer software lineup could even the score. "We're not selling cat food. This is the video game business, and market shares move very dramatically," he says.
Quick action is essential. With Japan stuck in recession and the Asian crisis deepening, Sony managers estimate that profits will probably decline some 10% this year. Some analysts are more bullish. Still, Sony's stock on the New York exchange has drifted from 96 in February to a recent 83. Even though PlayStation could continue to win converts in the West, the Japanese market is nearly saturated. "Sony is at the peak of its cycle now and has nowhere to go but down," says Kimihide Takano, senior analyst at Tokyo's Dresdner Kleinwort Benson. Long term, the Internet could also bring new upheavals. "The digital explosion is creating drastic change and forcing Sony to transform itself," says Sony President Nobuyuki Idei.
The wizards of Silicon Valley wonder if Sony can hack it. After a noisy entry into the PC market with the much admired VAIO line, Sony priced the machine out of most people's reach last year--just when Compaq and others were launching sub-$1,000 PCs. Valley mavens--and some recently departed Sony execs--wonder why Sony hasn't merged PlayStation with its slow-selling PC products, to give them a little lift. And they note that Sony's experimental digital communicators and DVD machines have not sold any better than its rivals'.
Nonetheless, with the PlayStation, serendipity has favored Sony mightily. The origins of the game are perfectly in sync with the helter-skelter nature
of digital invention. A decade ago, Ken Kutaragi, a Sony computer engineer with a passion for video games, proposed a console that would combine the graphic capabilities of a workstation with Sony's CD-ROM drive. When Nintendo Co. jumped on board, Ohga gave Kutaragi the go-ahead to set up a joint development team. But several years later, in 1992, Nintendo abruptly pulled out, leaving Kutaragi in the lurch.
Bad move, Nintendo. When Ohga confronted Nintendo President Hiroshi Yamauchi, the latter denied any knowledge of a binding agreement. "Ohga was so furious, he told me to proceed with my project," says Kutaragi, now head of R&D for the PlayStation. Today, Nintendo says it preferred to stick with its ROM cartridge approach, which has less memory but more speed. Whatever transpired, Sony enticed most of Japan's game developers to its platform--along with top U.S. developers such as Electronic Arts--by offering some 4,000 game development tools and a bigger share of the profits than Nintendo.
All told, Sony has swamped the $8 billion Japanese game-software market with nearly 1,300 titles, prompting an outraged Nintendo President Yamauchi to warn last year that Sony could kill off the industry with all of "its garbage." Nintendo was right: Its carefully chosen N64 titles sell well. But in Japan, the paucity of game titles turned off fans--many of whom turned to the PlayStation.
SPORTS SPLASH. From the day it was launched, the PlayStation has projected an aura of hipness. For one thing, Sony largely ignored Nintendo's subteen following and zoned in on older customers, offering racier, more complex games. They enlisted athletes such as Terrell Davis, running back for the Denver Broncos football team, and Charles "Bo" Outlaw of the Orlando Magic basketball team to help promote world-beating sports titles.
Now the challenge is to move beyond PlayStation's hip franchise into even more lucrative and far-reaching businesses. In the world as Idei sees it, Sony will supply "content" to homes via digital satellite, cable, and the Internet. Compaq Computer, Hewlett-Packard, and IBM also believe that PCs and entertainment devices will merge. But Sony is the one that dominates the living room. And it understands that movies and games are a bigger draw than word processors or electronic checkbooks. As Nick Donatiello, president of U.S. market researcher Odyssey Ventures, puts it: "Entertainment is an 800-pound gorilla, and productivity tools [such as spreadsheets] are just Chihuahuas."
The computer and TV, or a hybrid, would anchor this multimedia world, and Sony is now squarely in the game. Although its VAIO PC has flopped in the U.S., Sony can barely keep up with demand in Japan for its two notebook versions. The VAIO comes with an interface that makes it compatible with all of Sony's digital products. Eventually, it may have some unique, PlayStation-derived game feature.
In the meantime, the company is rolling out some exotic digital toys. In May, it took the wraps off a $30 handheld game code-named "PDA," for personal digital assistant. It plugs into the PlayStation and shares bits of software such as digital pets. Players can nurture their critters on the PDA alone, swap them with friends over an infrared link, and input their digital pets back into the PlayStation game. The PDA could grow, critterlike, into an information and communications device. Ditto, the welter of cool ideas in Sony's Computer Science Lab in Tokyo. Ever see a data wand? You point it at an interactive poster, a TV, or a printer and capture the information, which you can transport to a computer. Sony engineers also dig robots and like to match their creations in RoboCup events. There's a creative entertainment twist: Animated commentators whose words and facial expressions track developments in the race.
TITANIC TRACKS. In the U.S., Sony's networked future is in sharper relief. Today, Sony's Web site promotes music with snippets of songs sent in streaming formats. But as bandwidth becomes more plentiful, Sony plans to harness the power of the Web with a plethora of new services marketed directly to consumers--bypassing the middleman and pocketing higher margins for itself. Indeed, the Web looms so large that even though Sony is among the best-known brands in the world, Idei wants to create a new name for its online ventures that will resonate as clearly as, say, MTV.
Sonymusic.com is already among the most popular music sites, thanks to hits such as the Titanic soundtrack and Celine Dion's Let's Talk about Love. The site is linked to all of Sony's labels, including Columbia, Epic, and Sony Classical, and attracts up to 1 million visits per week, says Fred Ehrlich, senior vice-president and general manager for new technology and business development at Sony Music Entertainment Inc. in New York. The attractions are many. At subsidiary site bobdylan.com, fans can watch a six-minute streaming video of Dylan's recent hit Not Dark Yet and search for lyrics from his records on Columbia stretching back to the '60s. Fans can also buy CDs and concert tickets online, read liner notes, and listen to previously unreleased material.
Another tactic is to connect multimedia content on the Web directly to music CDs. When played on a CD-ROM in a PC linked to the Web, so-called ConnecteD CDs let listeners click on a menu and search CDs for lyrics or guitar licks or view fresh material such as musical scores and photographs of the artists--tasks that would boggle your boom box.
High-quality motion pictures still can't be distributed digitally to consumers. But Sony is rapidly earning a reputation in digital media, from film and special effects to the production of films in DVD and high-definition formats. Last year, Sony Picture's Imageworks digital studio did computer graphics for the films Contact, Godzilla, and Starship Troopers, and the latter received an Academy Award nomination for special effects.
Other Sony entertainment properties are already online, including such lucrative TV game shows, as Jeopardy and Wheel of Fortune. Online games like these will eventually complement and even supplant its PlayStation business as game consoles add connectivity to the Web. Says Paul Matteucci, chief executive of Mpath Interactive, which runs a hot game and chat area on the Web: "Sony has a lead position in one segment--console games--and is taking a revolutionary strategy in another." International Data Corp. in Framingham, Mass., says online games could be worth $1 billion a year by 2000. Sony claims its game site already has 1.25 million users, half of them women.
But in the here-today, gone-tomorrow video-game industry, there's no guarantee Sony can keep PlayStation humming. Late last month, on the eve of the "E3" game industry event in Atlanta, Sega sneak-previewed its 128-bit Dreamcast console, which debuts in Japan this November. Later, Sega will spend $100 million on the U.S. launch.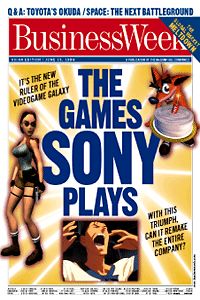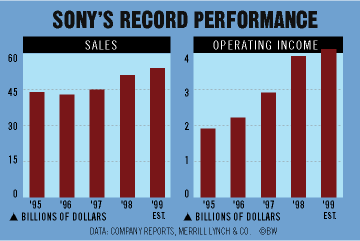 Many game developers think Dreamcast has a chance only if either Sony or Nintendo fumbles. No chance, says Kutaragi. "We are working on plans for a next-generation machine, but I can't say more." Sony Computer Entertainment President Tokunaka, however, says a DVD game machine is a possibility. Tokunaka has been making the rounds of the top game-development companies, according to an executive at a major Osaka game-software maker. "He came around two months ago, asking us to support their new platform. A month later, the Sega president came around," he recalls. The word is that once PlayStation sales peak, Sony will be ready with something new. That, of course, is how Sony plays the game.