A Great Port Regains Its Pride...And Nets Big Schools Of Tourists
The Mediterranean sunshine beats down on the heads of a father and his 8-year-old son as their rowboat makes its slow way past a line of gleaming cruise liners. The boy gapes at the dinosaur-like cranes unloading containers as big as train cars from a Chinese cargo ship. He'll be seeing a lot more of that as he grows up: The amount of cargo unloaded here will hit 25 million tons this year, up 40% since 1990--and the port may double its capacity by the time the boy is 20. "This city is at a turning point," crows Joaquim Tosas Mir, president of the Port Authority of Barcelona. "We are going to become the major industrial base not just for Spain but for all Southern Europe."
That may not be an idle boast. Barcelona is finally climbing out of a recession that had it losing foreign industrial investment to its perennial rival, Madrid. At its peak in 1990, Barcelona and the surrounding province of Catalonia got 78% of all foreign industrial investment that came into Spain. This dropped to a low of 25% in 1994, when Barcelona floundered in the depths of a post-Olympics depression that cut real estate values in half. But last year, Catalonia, half of whose population lives in the Barcelona metropolitan area, attracted 36%, and the province of Madrid only 23%. And now that the tide has turned, Barcelona's movers and shakers dream of besting Marseilles and Genoa to be the Mediterranean's preeminent logistics center--taking in cargo from ships and passing it on to road, rail, and air networks.
To lure investment to a region where labor costs are quickly closing the gap with Northern Europe, Barcelona must have top-notch infrastructure. "We put our plant here because it's well-connected," says Santi Morera, chief financial officer of Hewlett-Packard Co.'s Barcelona subsidiary. "In 10 minutes, our trucks can be on the highway straight to Stuttgart." Barcelona made its key move in 1994, announcing an ambitious, $1 billion Delta Plan to improve the port. When the plan is fully implemented in 2010, the expansion is expected to bring in an additional $3 billion in export-import business annually.
Besides doubling the port's area, to 1,400 hectares, the Delta Plan calls for changing the course of the Llobregat, one of Barcelona's two rivers, to create a delta from which boat shipments will be transferred to road or rail links. By 2004, if all goes well, the TGV, or high-speed train, from France will have a terminal in the delta.
Locals doubt that the track will be laid that fast. Like public-works projects almost everywhere, the Delta Plan is behind schedule. The centerpiece World Trade Center, designed by I.M. Pei, is only half-finished after a construction hiatus of several years caused by the recession. The Port Authority is still negotiating with the central government over its third of the financing for the Delta Plan, and the third to come from the private sector is being raised slowly. The Port Authority will contribute the rest from its own coffers. But tardy or not, when the plan is complete, Madrid had better watch out.
Barcelona has become the No.1 cruise embarkation point for U.S. tourists in the Mediterranean. It's also the No.3 cruise destination in the Mediterranean behind Genoa and Piraeus. In 1997, 359,000 passengers cruised through the port, compared with 278,000 in 1996, and the Port Authority expects growth to continue at this rate. "We have seven cruise ships in the harbor at the moment," says Josep Oriol, the port's director. "We'll have eleven later this summer."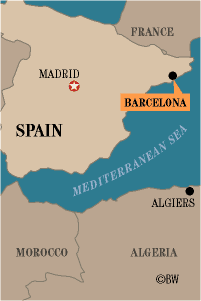 Port Vell, or "old port," is where thousands of these tourists entertain themselves for a day or two before their boats leave. Contrary to what its name might suggest, Port Vell is an ultramodern mall and marina, including an Imax cinema and Europe's largest aquarium. The development cost the Port Authority $109 million to build in 1995. Right now, Port Vell is tacked onto one end of the industrial port, but the Delta Plan calls for building a pier that lets tourists come straight in to Port Vell without having to go near the commercial zone. Not that the current setup seems to put people off: Port Vell drew an impressive 15 million visitors last year.