Where The Language Wars Heat Up...And English Is Neutral Territory
William Echikson
It looks like a calm, prosperous suburb. BMWs and Volvos crowd the driveways. Manicured lawns sparkle. But Sint-Genesius-Rode--or Rhode-St.-Genese in French--has become a tinderbox in the latest episode of Belgium's simmering language wars. Flemish nationalists want to curtail the use of French in the leafy garden town of 18,000 just south of Brussels. "If we don't watch out, there'll be ethnic cleansing here," warns Myriam Delacroix, the town's French-speaking mayor.
This suburb's struggle could paralyze Belgium's national government and fuel support for right-wing extremists in next year's parliamentary elections. That could be a setback for Belgium's fledgling economic recovery. After years of painful austerity, Belgium recently qualified for the European single currency, and its battered economy is expected to expand by 2.8% this year. "Language wars take our eyes off the real problems," says Peter van den Houte, an economist at Banque Bruxelles Lambert.
In the past, billions of francs of public money have been wasted trying to placate the linguistic groups. "If an investment was made in the port of Antwerp for the Flemish, a similar one had to be made in Liege for the French," says van den Houte. The result? "White-elephant projects, ports without boats, and bridges leading to nowhere." Although Belgium's national debt is falling, it still stands at some 122% of gross domestic product, the highest in Europe.
Sint-Genesius-Rode's authorities fund two sets of schools, libraries, and cultural associations--and yet the fragile social equilibrium is fraying. Although the suburb is located in Flanders, its population is 58% French-speaking, and more French-speakers are fleeing congested Brussels for the suburban paradise of large villas and gardens. The poorer Flemish minority, entrenched behind the train station in modest, red-brick townhouses, fears coming under control of French-speaking Brussels. "This is Flanders, and the French must adapt to us," says Anne Sobrie, the only Flemish town alderman out of five.
"Adapting" means speaking Flemish and conducting business with town authorities in Flemish. Until now, French-speakers in Sint-Genesius-Rode and five other Flemish suburbs of Brussels have been allowed to register births, receive identity cards, and pay taxes in their native tongue. Then, late last year, the Flemish regional government decreed that French-speakers must request such privileges in writing each time.
BLACKING OUT. The struggle has turned town management into chaos. Approval of the municipal budget was blocked for five months. Funding for road projects and for the town's French-language library remains stalled, and the job of police commissioner has remained vacant for more than a year.
The tension looks set to escalate. Mayor Delacroix has refused to implement the Flemish-language decree. Flemish nationalists have responded by blacking out French signs and demonstrating at town-council meetings. If the Flemish regional authorities overrule her, as expected, Delacroix says she'll appeal directly to Prime Minister Jean-Luc Dehaene. "The federal government has to step in," she says. But if the Flemish Dehaene gives in to her demands, his government could fall.
More than 10% of Sint-Genesius-Rode's population are foreigners. Many work at the European Commission or in the 2,500 multinationals that have offices or headquarters in the Brussels region, most in the bilingual environs of the city. "Corporate headquarters have fled the city for the suburbs because there's good access, good parking, and it's near where people live," says Jean-Paul Hologne, a specialist on the Belgian economy at Banque Bruxelles Lambert.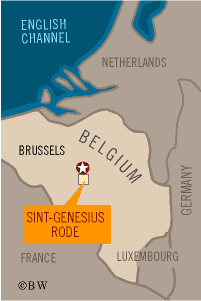 Although civil strife usually frightens well-heeled expatriates away, the outsiders have thrived. "If a French-speaker goes into a Flemish store or a Flemish-speaker into a French store, you can feel the tension," says Karen Stiros, wife of a Procter & Gamble Co. product manager and vice-president of the local American Women's Club. "But the shopkeepers are courteous because we're neutral."
In a previous posting in Geneva, Stiros had trouble because her French wasn't fluent. "It's much less a problem in Brussels, because so many people speak English," she says. Indeed, when she holds parties, she invites both French- and Flemish-speakers--and everybody gets along speaking English. Maybe that's the solution to the language wars.
Before it's here, it's on the Bloomberg Terminal.
LEARN MORE