National Record Belts It Out
by
Suddenly, investors are high on music, snapping up shares of National Record Mart (NRMI), which owns and operates 154 stores in 27 states. Its stock, trading at 3 1/2 a share in January, shot up to 10 3/4 on May 26. What's going on?
"First of all, we have a specialty retailer whose sales are rising faster than those of anyone else in the industry," says Robb Knie of Equity Advisory in Hackensack, N.J., who thinks the stock is undervalued despite its sharp runup. In the past nine months, he notes, the company posted double-digit growth in same-store sales, with April sales rising a neat 18%. And then there's the Internet, he adds, which the company will exploit to buy and sell new and used CDs. "National Record is negotiating with a major Internet company to co-brand a music site," says Knie. The sale of used CDs alone could add 20 cents a share to earnings, he figures.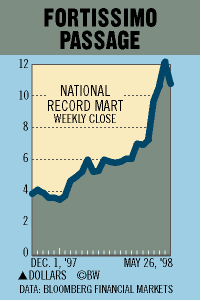 There's also talk of a buyout, says Knie, who notes that a group that controls Wherehouse Entertainment, which operates more than 200 music stores, has taken a 3% stake in National Record. Wherehouse has been a consolidator, says Knie, and could opt to acquire National Record. He thinks the stock is worth 22 to 24 in a buyout. CEO William Teitelbaum, who controls 30% of the stock, declined to comment on whether a suitor has approached him about a buyout.
Analyst Roger Porter of investment firm Branch Cabell in Richmond, Va., says National Record is undervalued based on its earnings growth rate and the stock price of its peers. He figures the company will earn 60 cents in 1999 based on sales of $142 million and "north of a dollar in 2000, based on sales of $175 million," up from an estimated 11 cents this year on sales of $109 million.
Before it's here, it's on the Bloomberg Terminal.
LEARN MORE