Chile: The Upside To The Slowdown: Rates May Fall
By
Public and private forecasters are scaling back their outlooks for Chile as a result of the troubles in Asia, high interest rates, and falling copper prices. But the slowdown will keep downward pressure on inflation and pave the way for rate cuts later on.
On May 25, the government reported that domestic spending in the first quarter increased 14.6% from a year ago. The burst of demand offset a plunge in exports and pushed up real gross domestic product by 7.2% from a year ago. The first-quarter performance means the 1998 economy is on track to grow within the 4.5%-to-5.5% range expected by private forecasters and the government of President Eduardo Frei. But in late 1997, the 1998 outlook had been for real GDP growth between 6.5% and 7%. Chile's real GDP grew about 7% in 1997.
A deteriorating trade position is weighing heavily on the economy. A drop in demand from Asia and a 30% plunge in copper prices over the past year have hurt exports while solid domestic demand has kept imports growing at a double-digit rate (chart). As a result, Chile's merchandise trade position for the first four months of 1998 showed a deficit of $577 million, compared with a surplus of $811 million in the same period of 1997. The falling price of copper--Chile's major export--has also caused some businesses to cut back on capital outlays.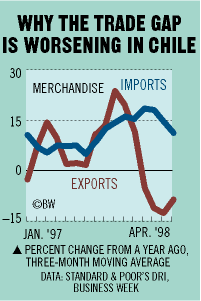 Another restraint on growth has been high interest rates. The Central Bank of Chile has kept its overnight lending rate at 8.5 percentage points above inflation in order to slow demand and rein in price pressures. The very restrictive monetary policy is producing results. Consumer prices were up just 5.4% in the 12 months that ended in April, despite the 10% devaluation of the peso since last September.
Inflation is set to end 1998 at 5%. That stellar performance--in a country where prices rose by an average of 20% annually in the 1980s--will give the central bank some room for rate cuts later on. And lower borrowing costs will keep domestic demand growing into 1999.
Before it's here, it's on the Bloomberg Terminal.
LEARN MORE