Bolder Gets A Recharge
by
The stock of BOLDER Technologies (BOLD) was on the ropes in February: At 7 7/8, shares had fallen from a high of 17 a year earlier. Delays in production of its small but high-powered lead-acid battery disappointed investors. And adopting a poison pill to ward off raiders dismayed investors even more. But of late, the stock has risen--to 10 3/4 on May 26.
The reason: Analysts expect the company's battery will be in production before yearend, reaching 10,000 units a day by mid-1999. "It has taken longer than we expected," says Carl Stutts, general partner at Columbine Venture Fund, which owns 19% of the stock. But "we're very excited about BOLDER's patented thin-metal film technology," adds Stutts, who is a also member of BOLDER's board. CEO Dan Lankford confirms that production will start this year. "We're eyeing broader uses for our battery," he adds.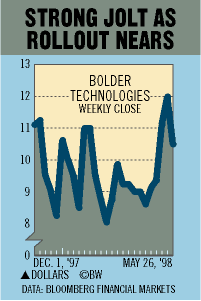 The viability of BOLDER's product is supported by car-battery giant Johnson Controls, which has acquired a 6% stake. Johnson Controls has a license from BOLDER to market its output in certain markets. BOLDER's battery has twice the punch of other rechargeable batteries but is only one-fifth as heavy. BOLDER batteries, which recharge in five minutes, are designed for jobs such as jump-starting a car.
Clinton Morrison of investment firm John G. Kinnard in Minneapolis figures the company will remain in the red through next year, when it's expected to post a loss of 35 cents a share on revenues of $12.1 million, vs. a loss of $1.10 this year on $2.3 million.
Before it's here, it's on the Bloomberg Terminal.
LEARN MORE