A Rising Mountain Of European Junk
As the euro's day nears, investors scurry for higher yields
Kerry Capell
Eurojunk has arrived--big time. In the first five months of this year, high-yield debt issues by European corporate borrowers soared to $8.2 billion, surpassing the $6 billion raised in all of 1996. On May 11, the biggest deal yet was announced. The British venture capital groups Cinven and CVC will use a hefty slug of junk to help finance their $1.7 billion buyout of Koninklijke KNP BT, a Dutch packaging company. Final terms have not yet been disclosed, but industry sources are expecting the issue's size to beat the previous Eurojunk record, a $510 million deal in March by NTL, a British telecom company.
The surge in junk is being driven by powerful financial changes sweeping the Continent. Plunging interest rates across Europe ahead of the launch of the euro on Jan. 1 have sent investors scurrying for higher yields. And privatizations, mergers and acquisitions, and corporate restructurings--often sparked by preparations for the single currency--are now being financed increasingly with bonds, rather than bank loans. "European Monetary Union has engendered a frantic search for yield. This will supply a substantial amount of the capital needed to help finance the restructuring of Europe," says Morgan Stanley Dean Witter & Co. Managing Director Alan Jones.
FINANCIAL FIREPOWER. Issues by newly deregulated telecommunication and cable-TV companies have so far accounted for roughly 60% of the European high-yield debt. But Europe's thriving leveraged buyout market is likely to change all that. With global stock prices approaching the stratosphere, institutional investors are increasingly looking to private equity for better returns. Sources estimate that $15 billion in private equity capital has already been dedicated to Europe. All the liquidity helped fuel $35.7 billion in European LBOs last year, compared with $28.7 billion in the U.S.
Junk is rapidly becoming the leveraged buyout financing tool of choice. Indeed, Jones estimates that investors are armed with enough financial firepower to acquire from $25 billion to $40 billion in LBO deals annually. Since 30% of a typical leveraged buyout is financed with high-yield paper, this could translate into $7 billion to $12 billion in new issues.
Helping fuel demand for junk is a stupendous rally in formerly high-yielding government bonds. Three years ago, the yield on Italian government bonds was more than 12%, some 650 basis points above comparable German debt. But with Italy pledging to cut spending and debt as the price of joining the euro, that premium has narrowed to less than 26 basis points, notes Lehman Brothers credit-market strategist David Munzes. By contrast, some high-yield European corporate bonds trade at 350 to 450 basis points or more over German government debt. For instance, a $125 million issue of 10-year senior subordinated notes by Britain's HMV Media Group in April yielded 456 basis points over U.S. Treasuries. A simultaneous issue of HMV debt denominated in pounds had an even wider spread--498 basis points over British gilts.
FREE-FOR-ALL. Until recently, Europe's junk-bond market was an American game. Before the KNP deal, all 30 Eurojunk-bond issues made were underwritten by top-tier American investment houses such as Goldman Sachs, Morgan Stanley Dean Witter, Merrill Lynch, and Donaldson, Lufkin & Jenrette. Morgan Stanley is leading the pack in 1998 with $5.6 billion in announced deals through May 19. Indeed, more than 80% of the Eurojunk issues have been denominated in U.S. dollars and sold to American institutional investors. But European competitors are now jumping in. The KNP issue, for example, will be managed by a European bank, London-based Barclays Capital, and denominated in German marks.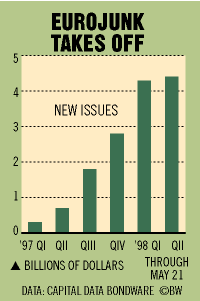 Still, the Europeans lack the deep experience the Americans possess. So many European houses, including Credit Suisse First Boston, ING Barings, SBC Warburg, and Deutsche Morgan Grenfell, have been hiring U.S. junk-bond veterans. At Barclays Capital, for instance, American Joe Bencinvenga oversaw the KNP deal as head of the bank's global high-yield division. He came to Barclays after more than 15 years in the U.S. junk market, some of them as an analyst with Drexel Burnham Lambert, the onetime junk bond king.
Europe's junk market may be more than 20 years behind America's. But with LBO restructurings aplenty and investors searching for high yields, it shouldn't be long before Eurojunk gains the same respect it has gotten across the Atlantic.
Before it's here, it's on the Bloomberg Terminal.
LEARN MORE