Working Women Lift The Economy...As Loans Start To Flow More Freely
Sharon Moshavi
Amna Hassan, 39, stands in a concrete-walled room brimming with piles of cloth waiting to be sewn into dresses and blouses. She runs her hand along the hem of one of her finished pieces. "See, it's very straight," she says proudly.
She works in her house in a dirt-strewn suburb of Gaza City with the aid of three sewing machines and several of her daughters. She has 10 children in all and a husband who for the past seven years has been mostly unemployed. With the money she earns from sewing, she has bought the family a telephone line and added two rooms onto the house.
But Hassan didn't make it on her own. She owes her success in large part to the Solidarity Group Lending Program, one of the largest small-loan programs in the Middle East. The 3 1/2-year-old effort for women entrepreneurs--founded in Gaza by a Palestinian social worker, Mona Sarraf, and funded by the U.N.--is one of the few bright spots in the otherwise dismal economy of Gaza, where annual per capita income has sunk to $1,127, down 12% since the peace process began. While microlending programs directed at women have succeeded in places like Bangladesh, it's much tougher for such a program to thrive in a small strip of land frequently closed off from the outside world. But the program has done just that, even getting the conservative Muslim group Hamas to back down from its initial objections.
Just getting women interested has been difficult. In the beginning, Sarraf had to comb Gaza, whose population is over 1 million, begging women to take loans. Even now, "we have to reach out to find clients," says Sarraf, a fast-talking 42-year-old. "Women aren't used to being the decision makers." Or the moneymakers. But since inception, the program has lent nearly $5 million to more than 3,000 women, many of whom have gotten repeat loans. The loans range from less than $300 to about $2,000 and are used to start small businesses, from clothing manufacturers to grocery stores to fruit and vegetable trading. Despite an annual interest rate of 24%, the women boast a 99% payback rate.
With more than a third of Gaza men unemployed, these small ventures are economically weighty. "They're doing more good than you'd think," says Gaza economist Salem Ajluni. What makes the women's work especially important is that it is self-contained, so it's not directly affected when Israel seals off Gaza and prevents thousands of men from getting to work.
CANDIES AND SMOKES. Even so, women find it hard to get their husbands' support. Esmehan Amarou's unemployed spouse tried to stop her from opening a corner grocery in the front room of their house. He didn't think it was appropriate for his wife to wait on men. Still, she slowly built up her business--the first loan bought candies, the second cooking staples, and the third cigarettes. "He told me my business would never succeed. And I challenged him," says Amarou, 36, who has already made enough to pay off the family debts. "Inshallah [God willing], it will be a supermarket one day."
For other Palestinian businesses, getting a loan these days is also a bit easier. Before 1994, only one non-Israeli bank, the Bank of Palestine, did business in the West Bank and Gaza. Today, there are 22 such banks, most of them foreign Arab-owned banks. Total lending in 1997 rose 60% over 1996, to $545.8 million.
But the question remains: Does anyone really want to invest here? For the banks, the territories remain high-risk, and on balance, the banks are taking rather than giving. Their loan-to-deposit ratio is a dismal 24%, compared with 80% in Israel and 60% in Jordan.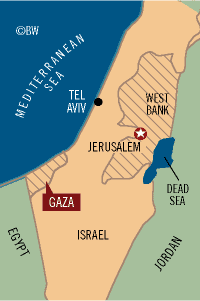 Land, the central issue of the Israeli-Palestinian dispute, is also a major stumbling block when it comes to loans. The banks naturally demand collateral, and most Palestinian wealth is in land. But much property is disputed, and few Palestinians hold the deeds that would help them prove ownership.
Yet slowly, Palestinian businesses are starting to invest again. New-company registrations rose nearly 15% in 1997, to 1,195. Says economist Ajluni, who crunched the numbers: "Palestinian businesspeople are more willing to endure political risk than foreign investors." After all, they have the most to gain.
Before it's here, it's on the Bloomberg Terminal.
LEARN MORE