Who Asked Him To Be Jal's Co Pilot?
Investor Eitaro Itoyama aims to rescue Japan Airlines
By
Billionaire golf-course mogul Eitaro Itoyama is a man of many parts. A member of Japan's Parliament until 1995, he hobnobs with international bankers. But is Itoyama really the noble shareholder activist he claims to be?
That's the burning question at Japan Airlines Co. Itoyama has spent $200 million to build a 3% stake in JAL since last year, making him the troubled carrier's biggest single investor. Itoyama believes it's his "patriotic duty" to save JAL, whose net debt now equals a crushing 900% of its equity, from bankruptcy. He wants to recruit U.S. airline executives, sell off JAL's Nikko Hotels International chain, and slash labor costs at an airline where senior flight attendants earn up to $100,000 a year. "I'm the first person to open up the Pandora's box," he brags.
JAL, however, remains hermetically sealed. The airline has denied Itoyama the board seat he has sought. All the same, Itoyama claims to be in discussions with Starwood Hotels & Resorts Chairman Barry S. Sternlicht to sell JAL's posh Essex House in New York for as much as $250 million. Sternlicht could not be reached for comment. JAL insists the hotel isn't on the block. "We aren't talking to Starwood," says JAL spokesman Geoffrey Tudor, who adds that Itoyama "certainly has no authorization from us." But Itoyama says he was approached by Starwood. "I'm just trying to help," he says.
HEAVY PAPER LOSSES. Privately, JAL officials dismiss Itoyama as a greenmail artist. But while Itoyama maintains he isn't trying to shake down JAL, he has a lot riding on the airline's future. Itoyama bought in to JAL at an average of $3.75 per share, and is facing heavy paper losses now that the stock has tumbled to $2.79 (chart).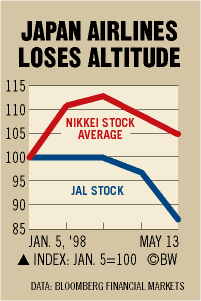 Itoyama has both wealth and connections that JAL may find difficult to ignore. Itoyama's wife's late uncle was the billionaire Ryochi Sasakawa, a former ultranationalist and an accused, but unindicted, war criminal. After his release from detention in 1948, Sasakawa amassed a fortune running legalized gambling on speedboat racing. Sasakawa had friends in the criminal world and the governing Liberal Democratic Party. These contacts paid off in 1968, when Itoyama was named private secretary to Yasuhiro Nakasone, who later became Prime Minister. Four years later, at age 32, Itoyama became the youngest member ever elected to the upper house of Parliament. He concedes that some of his supporters engaged in vote-buying, though he was never implicated.
Itoyama's advance on Japan Airlines comes as other big shareholders, such as Tokio Marine & Fire Insurance Co., have suffered in silence as the carrier omitted dividends six years in a row. Moreover, the airline was battered by a $729 million loss in the year through March. Its credit rating is a notch above junk, and it now is engaged in a fare war with United Airlines Inc. and Northwest Airlines Inc.
With so much bad news, all JAL needs is Itoyama hectoring it about radical change. But this time, the carrier might actually have to listen.