U.S.: Greenspan May Have A Fight On His Hands
Low unemployment and a soaring money supply give rate-hikers ammo
by
If the Federal Reserve's Mar. 31 policy meeting was as contentious as the rumors have suggested, then the May 19 confab should be a doozy. It's shaping up to be a war of economic philosophies. Until recently, the various beliefs within the Fed have made for interesting debates. Now, positions are starting to harden.
In one corner, you have the traditionalists, headed by Governor Laurence H. Meyer, who believe that excessively tight labor markets fuel inflation. They will point to the plunge in April's jobless rate, to 4.3%, as evidence that the Fed's experiment to test the economy's noninflationary limit has gone too far.
This group will find an ally in the monetarists, led by Cleveland Fed President Jerry L. Jordan and newly minted St. Louis Fed President William Poole. They will cite surging money growth as evidence that current policy is pumping way too much liquidity into the economy, possibly inflating stock prices.
And in the other corner, there are the new economists. Although Fed Chairman Alan Greenspan would object to the moniker, his past words and actions place him at the forefront of this camp. These policymakers believe that something is different this time. Greenspan calls it the "X-factor" that separates the worrisome inflation predictions of the traditional wage-price model from today's low-inflation reality. That X-factor could be anything from globalization to worker insecurity to better productivity growth, but whatever it is, the result is more room for the economy to grow without generating inflation.
THE FED CHIEF also has a problem with the monetarist argument. The historical link between money and the economy broke down in the early 1990s, possibly reflecting financial-market innovation, and it has only recently begun to show signs of reestablishing itself. Greenspan would argue that it is still too soon to trust money growth as a policy guide.
Greenspan's beliefs seem likely to win out on May 19, especially with the Asian crisis clearly hitting the manufacturing sector. Still, Wall Street is starting to worry about just how much longer the chairman can maintain his position against an apparently rising tide of opposition to a steady-as-she-goes policy.
A gusher of surprising data on everything from economic growth to inflation to unemployment will give each side plenty of ammunition. In particular, the strong April jobs report, coupled with weak first-quarter data on productivity (charts), give those arguing for a rate hike powerful new backup.
On traditional grounds, the labor market numbers look worrisome for future inflation. The focal point is the steep drop in the unemployment rate, from 4.7% in March to a 28-year low of 4.3% in April. That decline was no fluke. Indicators that closely correlate with the jobless rate, especially economic growth and new claims for jobless benefits, have been predicting a drop below 4.5%. At the same time, hourly pay in April rose 4.4% ahead of a year ago, the fastest annual clip in 15 years, with pay in the service sector up 5%.
Moreover, at the current growth rates of employment and the labor force, the jobless rate will go even lower. Nonfarm payrolls increased 262,000 in April, a strong rebound from March's weather-related dip of 24,000. Payrolls have slowed, but not by enough. Monthly gains have averaged 224,000 so far this year, vs. 267,000 last year. The average would have to slow to about 150,000 per month just to stabilize the fall in the jobless rate, and it would have to slow even more than that to halt the acceleration in wage growth.
THE PROBLEM: Pay is starting to rise far faster than even good gains in productivity can offset. And the news on first-quarter productivity, measured as output per hour worked, was not good. It rose a scant 0.2%. After the Labor Dept. applies new seasonal adjustment in its annual revision in June, however, the first-quarter gain is likely to be somewhat larger.
But even at productivity's healthy 1.8% trend of the past year, the ongoing speedup in wages and benefits is pushing up unit labor costs, which lie at the heart of corporate pricing and profits. Unit labor costs rose 3.8% in each of the last two quarters, the fastest two-quarter increase in five years.
Looking at it another way, the inflation-adjusted employment cost index of wages and benefits shows that real wages are increasing 2.5% per year. But here again, worker productivity is not rising fast enough to justify that gain. The bottom line: Companies that can offset higher costs by raising prices are doing so, and those that cannot are watching their profits wither.
MOUNTING WORRIES among some policymakers that tight labor markets could fuel inflation would quickly ebb amid signs that demand for goods and services is cooling. But on this front, the evidence remains mixed.
Manufacturing is clearly feeling the chill from Asia. Factory employment stopped growing in February and fell in both March and April. Also, the factory workweek has been shrinking since reaching 42.2 hours in December, and it fell sharply in April, by 1.1 hours, to 40.7 hours. However, the Labor Dept.'s April data were collected during the Easter holiday week, which probably depressed the readings on hours.
Nevertheless, factory production in April likely fell for the third month in a row, amid weaker exports and the need to pare inventories. A drop-off in inventory growth from the rapid first-quarter pace could be a big drag on second-quarter economic growth.
Domestic demand is another story. While spending by U.S. consumers and businesses is bound to slow this quarter from its booming first-quarter pace, the depth and duration of any slowdown remains hard to gauge, especially with consumer spending so strong. Retail sales rose a healthy 0.5% in April, and real retail sales are especially strong (chart), and for now, consumer spending is on track to grow 3% to 4%, following the first quarter's 5.7% jump.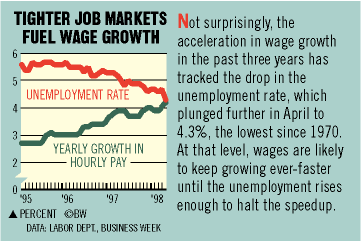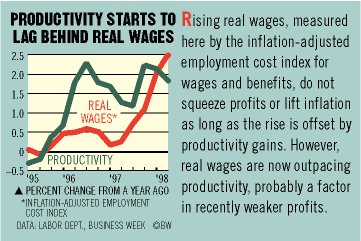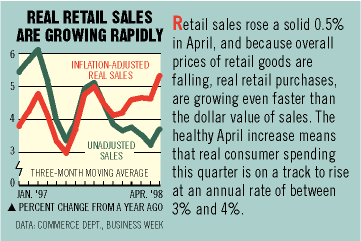 Unrelenting strength in U.S. demand, along with a soaring stock market, plays right into the hands of the monetarists. They believe that money growth is the chief factor in economic growth and inflation, and the broad measure of money, called M2, is currently growing nearly 7% from a year ago, the fastest pace in 11 years. In particular, if the stock market's runup simply reflects a flood of excess liquidity looking for a home, instead of bright prospects for productivity and profits, then fears of an asset bubble would be justified.
Greenspan, of course, will pull out his X-factor and say, don't worry. But two things are certain: Based on the latest labor market trends and some Fed officials' recent remarks, soothing his colleagues' concerns won't be as easy as it used to be. And if the Fed does tighten, the stock market's love affair with the Greenspan Fed will end quickly--maybe even painfully.
Before it's here, it's on the Bloomberg Terminal.
LEARN MORE