Touch And Talk
MEDICAL & SCIENTIFIC PRODUCTS: SILVER DynaMyte Augmentative Communicator Designers: Sentient Systems, Daedalus Design, and LSB Technology
by
The shift from general-use computers to single-purpose electronic devices, highlighted by this year's IDEA competition, is perhaps best exemplified by the DynaMyte Augmentative Communicator. This silver-medal winner is a compact, portable, touch-screen communicator for people with speech and language-learning disabilities, such as kids with cerebral palsy or Down's syndrome and older people who have suffered strokes.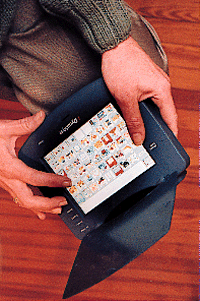 The software, carried on two removable memory cards, allows people to select words, letters, icons, or even preprogrammed phrases. They touch the screen, and a clear voice speaks. Experienced people can "speak" this way at 30 words a minute. A pair of internal speakers reproduces the highly synthesized voices, which can be customized.
For people who have difficulty grasping objects in their hands, Daedalus Design in Pittsburgh attaches a series of straps, handles, and legs to the DynaMyte so it can be carried, worn, or lifted onto a table. Rubberized housing enhances the grip.
Sentient Systems, which makes the DynaMyte, wanted Daedalus to design the product so it would look cool to children but effective and professional to adults. Price for the three-pound communicator, which measures 8 in. by 7 in. by 2 in.: about $6,500.
Before it's here, it's on the Bloomberg Terminal.
LEARN MORE