Northern Ireland: Business Pitches In
Every summer, Portadown, Northern Ireland, makes the news in Britain--and sometimes around the globe. Marches by Protestant Orangemen along the Garvaghy Road to Drumcree Church often lead to violent clashes with Catholic residents along the way. Yet the Troubles have not stopped Ulster Carpet Mills Ltd., which employs 700 people in a sprawling complex along the same road, from establishing itself as a leading supplier of wool carpets to major international hotels. On a recent spring day, the company's looms were rattling away on a $1.3 million order for the new Bellagio casino in Las Vegas, Nev.
While you might think the conflict that has plagued the British-ruled province over the past three decades would have made life impossible for business, many companies such as Ulster Carpet have soldiered on. Now, they are a key reason for optimism about the prospects for a lasting peace based on the settlement reached between the British and Irish governments and local political parties on Apr. 9. The companies provide Northern Ireland with a substantial industrial base on which to expand the economy in peacetime. "Peace will make a potentially huge difference to the whole of Northern Ireland industry," says Mike Mills, Ulster Carpet's CEO.
Still, peace is not a sure thing. Although voters on both sides of the Irish border are expected to approve the peace pact in a referendum on May 22, it is far from clear that the long-embattled parties can get along.
NEW ATTITUDE. But if the settlement holds, it will speed subtle changes that have gathered pace in recent years. Even before the deal was struck, Northern Ireland was fast becoming a consumer society like the rest of Western Europe. Its business leaders have been twisting politicians' arms to end the conflict. And a younger generation now coming of age considers the sectarian war an embarrassing anachronism.
The North still has a long way to go. Along with getting its politics right, it has to make the change from a public-sector economy, heavily dependent on security spending, to a private one. But it could wind up a prosperous enclave thriving on manufacturing and tourism. Such an outcome would be the payoff for the long struggle by government and business to change attitudes through spending on economic development.
Among multinationals, Northern Ireland's reputation already contrasts with its hard-boiled image in the popular press. It is considered a choice investment location, thanks to improving politics, global marketing, and generous subsidies. Some $3.2 billion has gone into new and existing plants since 1993, and the numbers are rising. Dupont, Seagate Technology, and Fujitsu have all announced new investments in the past year. "There's a strange thing about Northern Ireland," says Graham Gudgin, director of the Northern Ireland Economic Research Center. "It has been one of the fastest-growing regions in Britain. With low wages, it is a bit like some southern states in the U.S."
The place it resembles more is the Irish Republic to the South, which led Europe with estimated 12.5% economic growth last year. Thanks to success in attracting investment, the Irish Republic has become less of an object of mistrust in the north and more a model to emulate. That change contributed to the peace deal, which extends a carrot to nationalists by giving the Dublin government a limited role in northern affairs while holding out the possibility of eventual union.
The big question is how well Northern Ireland will do if investors judge that its political woes are history. More investment, new jobs, and trickle-down prosperity would help cement the peace. The British government, the European Union, and the U.S. are likely to chip in aid to encourage economic growth. The British have already announced a new $513 million package. This is on top of $2,900 per year in subsidies for each of the province's 1.7 million people.
But the best bet for creating lasting jobs is private investment. Investors such as Northern Telecom Ltd. are attracted by good telecommunications, cheap land, and subsidies that average 25% of the capital costs of projects. They also like the well-educated, inexpensive workforce at a time when strong economies elsewhere are making labor scarce. Says Peter Schuddeboom, a Nortel vice-president: "Companies are going after the talent where it is."
COLLEGE TOWNS. Schuddeboom supervises 300 Nortel engineers at a facility at Monkstown, outside Belfast. He starts his people at about $27,000 a year, 10% lower than in other parts of Britain. But the key is being close to Belfast's two universities, Queens and Ulster, which crank out 650 software engineers a year. Nortel, which also makes its gear in a plant next door and produces switching equipment in the Irish Republic, recently announced a $47 million expansion at Monkstown.
Working the other end of the telecommunications labor spectrum are companies setting up call centers that do everything from answer questions about computers to sign up clients for bank accounts. The government subsidizes these projects because they create jobs cheaply and fast. British Telecommunications PLC already has four call centers in Northern Ireland and is ramping up a fifth. Michael Mulvenna, who manages one BT center, says the abundance of labor is key. He can find 100 people in Northern Ireland to go to work on four days' notice.
Such projects have helped slash unemployment from 14% in 1993 to 8% now. While that has improved the political climate, those numbers are well above Britain's 4.8% jobless rate, and there are still areas in Belfast where unemployment among males approaches 50%. "There are people there with skills who would welcome gainful employment," says Mitchell McLaughlin, chairman of Sinn Fein, the Irish Republican Army's political wing. He wants the government to offer incentives for investing in blighted areas.
Economic issues are likely to become more prominent as local politicians gain more authority. They have had little say in governing the province since the British abolished the regional legislature and imposed direct rule in 1973. But on June 25, a regional assembly will be elected and a provincial government will take over from the British.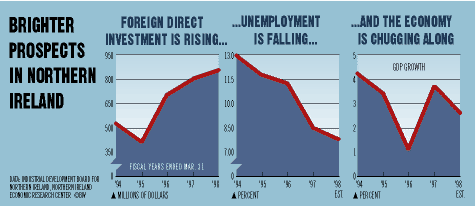 Key businesspeople hope that the new structure will work, despite the difficulties of forcing longstanding enemies such as Sinn Fein and the Ulster Unionist Party to cooperate. Chris Gibson, chairman of Golden Vale U.K., a unit of an Irish food processor, hopes the new system will force politicians to perform or get voted out. They have been "bloody irresponsible," he says.
But Gibson concedes that the province faces a difficult change from a security state to a private economy. Eventually, more than half of 14,000 police jobs are likely to be cut. Over time, Prime Minister Tony Blair would also like to scale back the province's subsidies. For now, though, Blair will be reluctant to jeopardize the peace deal that has made him an international hero. As for Northern Ireland, having to switch from a police state to a more normal economy is a nice problem to have.
Before it's here, it's on the Bloomberg Terminal.
LEARN MORE