business
Northern Ireland: Business Jumps In To Help Tame The Troubles
Investment is flowing--and may help the peace accords stick
Stanley Reed
Every summer, Portadown, Northern Ireland, makes the news in Britain--and sometimes around the globe. Marches by Protestant Orangemen along the Garvaghy Road often lead to clashes with Catholic residents. Yet the Troubles have not stopped Ulster Carpet Mills Ltd., which employs 700 people in a complex along the same road, from establishing itself as a leading supplier of carpets to international hotels. On a recent day, the company's looms were rattling away on a $1.3 million order for the Bellagio casino in Las Vegas, Nev.
While you might think the conflict that has plagued the British-ruled province would have made life impossible for business, companies like Ulster Carpet have soldiered on. Now, they're a key reason for optimism about the prospects for peace based on the settlement between the British and Irish governments and local political parties on Apr. 9. Northern Ireland has a strong industrial base on which to expand the peacetime economy. "Peace will make a potentially huge difference to Northern Ireland industry," says Mike Mills, Ulster Carpet's CEO.
Still, peace is not a sure thing. Although voters on both sides of the Irish border are expected to approve the peace agreement in a referendum on May 22, it is far from clear that the long-embattled parties can get along.
But if the deal holds, it will speed subtle changes that have gathered pace in recent years. Northern Ireland is fast becoming a consumer society like the rest of Europe. Its business leaders have been twisting politicians' arms to end the conflict. And its young people consider the sectarian war an anachronism.
More investment, new jobs, and trickle-down prosperity are the best hope for cementing the peace. The British government, the European Union, and the U.S. are likely to chip in aid to encourage economic growth. The British have already announced a new $513 million jobs and small-business package. This comes on top of $2,900 per year in government subsidies for each of the province's 1.7 million people.
But the best bet for creating lasting jobs is private investment. Among multinationals, Northern Ireland's reputation already contrasts with its image in the press. Some $3.2 billion has gone into new and existing plants since 1993. Dupont, Seagate Technology, and Fujitsu have all announced new investments in the last year. Investors have been attracted by subsidies that average 25% of a project's capital costs and by the inexpensive workforce--especially at a time when strong economies elsewhere make labor scarce. Says Peter Schuddeboom, a vice-president of Northern Telecom Ltd.: "Companies go after talent where it is."
Schuddeboom supervises 300 Nortel engineers at a facility near Belfast. He starts his people at $27,000 per year, 10% lower than in the rest of Britain. But the key is being close to universities that crank out 650 software engineers per year. Nortel, which also makes switching equipment in the Irish Republic, is happy with its results in Northern Ireland. It recently announced a $47 million expansion of its operation.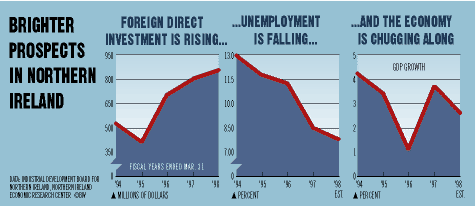 Such projects have helped cut unemployment from about 14% in 1993 to about 8% now. Economic issues are likely to become even more prominent as local politicians take on more authority. As voters prepare for the May 22 referendum and for a June 25 election for a regional assembly, business people are cautiously optimistic. Chris Gibson, chairman of Golden Vale U.K., a unit of an Irish food company, says he hopes the new setup will force politicians to perform or get voted out. Many have been "bloody irresponsible," he says.
But he concedes that the province faces a difficult transition from a security state to a private economy. Eventually, more than half of 14,000 police jobs may be cut and Prime Minister Tony Blair would like to scale back subsidies. For now, though, Blair will be reluctant to do anything that could jeopardize peace. As for Northern Ireland, having to switch from a police state to a normal economy is a nice problem to have.
Before it's here, it's on the Bloomberg Terminal.
LEARN MORE