Litigation: The Choice Of A New Generation
Stymied in the cola wars, Pepsi goes to court
Larry Light and David Greising
PepsiCo Inc. has tried just about every competitive tactic to get out ahead in soft drinks, to no avail. So the perennial No.2 beverage company is turning to the courts for help. Pepsi filed a lawsuit in Manhattan's U.S. District Court on May 7, charging that Coca-Cola Co. is using its superior size to squelch Pepsi's push into the important "fountain" market--restaurants, theaters, and sports arenas.
Way behind internationally and at a grave disadvantage domestically, Pepsi is doing whatever it can to recover in the cola wars. The latest litigation is the fourth time in two years that the company has taken legal action against its archrival. Despite their intense rivalry over the last century, Coke and Pepsi had almost never sued each other until lately. But now Pepsi has taken legal action against Coke in Venezuela, France, and India, as well as in the U.S.
What can Pepsi hope to gain? Even if his lawyers don't prevail in court, Chairman Roger Enrico wins headlines Pepsi wouldn't get from simple market competition, and he signals a newfound aggressiveness. But the legal moves also underscore just how far behind Pepsi is. Says Gary Hemphill, vice-president at consultants Beverage Marketing Corp.: "They've found obstacles everywhere they've turned."
GETTING TOUGHER. Pepsi's share of the domestic soft-drink market has been stalled just below 31% throughout the 1990s. Meanwhile, Coca-Cola's market share has increased from 41.3% in 1991 to 44.1% last year, and the company aims to reach 50% by 2002--a goal that analysts say may be overly ambitious in that time frame but is possible at some point. Overseas, Pepsi leads its adversary in only a few countries and it has lost ground in some major markets. For example, it used to have an exclusive franchise in the old Soviet Union. But now it lags in that region as well.
Under Enrico, who took charge in early 1996, Pepsi has gotten tougher. Enrico has focused his strategy on regrouping on the home front, reducing long-term debt by 40% to $4.9 billion and launching a major new marketing initiative. As part of the shift in focus, he currently is targeting only those foreign markets where Pepsi has a chance, such as India, leaving the rest to Coke for the time being.
A key part of Pepsi's North America push is the fountain market. Until last year, Pepsi hardly bothered to compete in fountain. The reason was its ownership of three big restaurant outfits: KFC, Taco Bell, and Pizza Hut. Other food chains figured they would be subsidizing this trio of competitors if they sold Pepsi. So last year, Enrico removed the impediment by spinning off his eateries, which now form Tricon Global Restaurants Inc., and began beefing up his fountain effort.
If Pepsi can gain ground anywhere, it should be in the fountain market, since this is the only big beverage distribution channel that's growing. Fountain now accounts for 27.3% of all U.S. soft-drink sales, up from 24.8% in 1991. "Getting into the fountain area is critical in developing the Pepsi brand," says Robert C. Cushing, president of Pepsi-Cola General Bottlers Inc., the top independent Pepsi bottler. And indeed, Pepsi has scored some wins, signing up Hard Rock Cafe, the Bojangles chicken chain, and 25% of Wendy's franchisees. Trouble is, as Pepsi freely admits, progress gets much more difficult from here. With major chains like McDonald's Corp. and Burger King Corp. firmly in hand, Coke holds two-thirds of the fountain market. Pepsi, whose only major chain is Subway, has a mere 20%.
Pepsi's May 7 lawsuit charges that Coke has thrown illegal obstacles in its path. Pepsi alleges that Coke threatens to cut off supplies to food-service distributors, which provide restaurants with everything from napkins to ketchup and soda syrup, if they dare offer Pepsi. The upshot, says Pepsi, is that many distributors refuse to supply Pepsi even to restaurants that want it. "Why limit restaurants' choice?" asks Vince Gennaro, chief of Pepsi's fountain operation.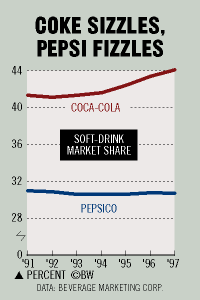 Coke admits it occasionally dumps distributors that carry Pepsi and even has language in its contracts with them saying offering Pepsi is a "conflict of interest" for them. But Coke says its foe has many ways of getting soda to fountain customers, such as by selling to them directly. Pepsi says that's bunk since most restaurants only want to deal with a distributor for all their supplies.
It's hard to gauge the validity of Pepsi's complaint because the suit provides no names of victimized distributors. Pepsi says they will be revealed as the litigation progresses. But some sizable distributors say they have not experienced any flack from Coke. Says a spokesman for $5 billion Alliant Foodservice Inc.: "We carry both Coke and Pepsi with no problem." If a judge agrees, Pepsi's challenge will be kicked out of court and back into the market.
Before it's here, it's on the Bloomberg Terminal.
LEARN MORE