Is Baan Stalling Out On The Infobahn?
The Dutch software giant must now go after smaller clients
by
The scene at Denver's Convention Center on Apr. 21 was a triumph for Dutch software entrepreneur Jan Baan. In front of 3,500 techies at BaanWorld, a customer convention, the Baan Co. chief appeared with his most prominent partner, Microsoft Corp.'s William H. Gates III. The two chairmen, who joined forces eight months earlier, presented a hefty list of collaborative projects. And Gates didn't shy from grandiose visions. Baan and Microsoft, he said, would create "a digital nervous system" for world business.
But triumphs are scarce for Baan these days. After a period of torrid expansion--profits grew sevenfold in two years, to $77 million--Europe's No.2 software company, based in Putten, Netherlands, has growing pains. While its chief competitor, Germany's SAP, plows a quarter of its revenue into research and development, the $683 million Baan, with a quarter of SAP's sales, has bought new products through British and U.S. acquisitions. And as it integrates these purchases, it also must reach out to smaller customers, far from the oak-paneled boardrooms it is used to. "We have a strategy," says Lorenzo Martinelli, Baan's vice-president for global strategy. "The trouble is, sometimes you have to wait a while for people to figure out if it's the right one."
Teaming up with Microsoft is the core of Baan's strategy. Like SAP, Baan has cashed in on customers fixing the Year 2000 bug and preparing their systems for the euro. It has also seen brisk sales of its bread-and-butter "enterprise" systems--the brains that run company operations--to global powers from ABB Asea Brown Boveri Ltd. to Sony Corp. But now Baan must widen its market by developing affordable products that will handle inventory turns, deliveries, and payrolls for smaller fry. It has to add to its client base everything from machine shops to pizza parlors. Trouble is, SAP, Oracle, PeopleSoft, and everyone else in the industry is tracking the same market.
Investors are unsettled. With 2000 and the euro deadline near, a key Baan market is drying up. And on the same day Jan Baan appeared with Bill Gates, the company stunned the market with a first-quarter report that withheld $43 million in revenue pending system installations now under way.
Now the concern is larger: Can Baan sustain sales growth of 65% while focusing on new products and customers? The markets aren't too confident. Baan's stock rocketed 90% in the previous 12 months, but analysts have just downgraded it. It fell 11% in two days.
Another worry: Baan encounters its German rival at almost every turn. SAP has its alliance with Microsoft, too. A team of SAP programmers now work at Microsoft's Redmond (Wash.) campus preparing Windows versions of SAP's business systems. And at the CeBIT trade show in Hannover in March, SAP signaled its commitment to smaller customers by giving away 10 enterprise systems to midsize German companies. "That's where we'll be growing," says SAP's co-chairman, Henning Kagermann.
BOXED PROGRAMS. Baan's shift to a broader base is already happening. Sales to small businesses grew from $26 million in 1996 to $117 million last year. Eventually, says Martinelli, the company wants to box programs for the mass market--and service small businesses through a Web site. It picked up Aurum Software a year ago for $275 million and this year acquired Coda Group PLC, a British financial-software company, for $86 million. Analysts now expect sales to reach $1 billion this year.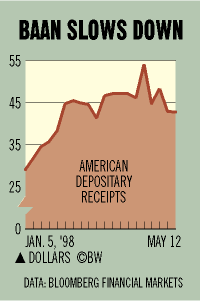 Given Baan's battering in the market, such forecasts must lift spirits. The other good news is that its market is growing too big and diverse for any company to dominate. Indeed, the challenge for everyone in the business-software industry is coming up with enough new products to satisfy customers. International Data Corp., a research group in Framingham, Mass., expects the core market for enterprise software, now worth $17.2 billion, to double in four years.
While big companies are now piecing together systems from various suppliers, the smaller companies for whose business Baan must now compete will want full-service providers. To satisfy them, Baan will need to offer entire software packages, from finance to human resources, on a few CD-ROMs. Baan may well emerge from this makeover stronger than ever. But investors accustomed to steady, fabulous returns see Baan's transition as a much rockier ride.
Before it's here, it's on the Bloomberg Terminal.
LEARN MORE