High Tech: The Force That's With Us
It isn't just powering growth--it's zapping inflation
by
On the eve of the Federal Reserve's May 19 monetary policymaking meeting, good news abounds. The U.S. economy continues to steam ahead--growing by 3.6% over the past year. Inflation, as measured by the gross domestic product deflator, is running at only a 1.4% rate. And productivity over the past year showed a strong increase of nearly 2%, despite a meager gain in the first quarter. Indeed, Fed Chairman Alan Greenspan is said to believe that there's no evidence that underlying productivity growth is slowing.
Still, there is one piece of economic data that gives the Fed pause. On May 8, the Labor Dept. reported that the unemployment rate in April dropped to only 4.3%, a 28-year low. Based on the experiences of the 1970s and 1980s, the fear of many economists--and several Fed governors--is that the low level of unemployment makes an inflationary outburst inevitable.
That might be so--if this were the typical economic expansion of the last two decades. But it's not. In today's economy almost 30% of growth is coming from the high-tech sector. The beauty of this high-tech-driven growth is that it actually subtracts from inflation rather than adds to it, because prices for computer and communications gear are falling so sharply. At the same time, the companies using all these high-tech goodies are saving costs by streamlining operations, extending the capabilities of their workers, and avoiding the need to hire more. All told, the high-tech boom is cutting one-half percentage point or more off inflation.
This isn't the only time in economic history that strong growth has persisted while prices have remained stable. In the second half of the 19th century, in the 1920s, and in the long post-war boom, the U.S. economy expanded rapidly for long periods without inflation. "If rapid economic growth is being produced by technological improvements and monetary policy is restrained, then it will lead to lower inflation," says Nobel laureate economist Milton Friedman.
PRUDENCE. Indeed, under Chairman Greenspan in the 1990s, the Fed has gained a hard-earned reputation for monetary prudence. In the 1970s, by contrast, the Fed injected massive quantities of money into the system in a misguided bid to boost employment and growth in an economy traumatized by two oil shocks. Inflation took off as business eagerly hiked prices.
Now, there's little chance that inflation will choke off the U.S. economic boom anytime soon. The bigger danger is that the pool of employable workers will be exhausted long before price inflation hits dangerous levels. In April, the unemployment rate of college-educated workers dropped to a shockingly low 1.7%, while the jobless rate of high school graduates was only 3.9% "It's increasingly difficult to find people at any level with the necessary technical skills for today's jobs," noted Ralph S. Larsen, Johnson & Johnson chairman and CEO, at the Business Council's recent meeting in Williamsburg, Va.
To sustain growth, then, companies will have to push hard on boosting productivity, rather than adding workers. That's where the technology boom has an additional payoff. Companies that can't find workers are hiking investment in productivity-enhancing information technology. A lot of these productivity gains are coming in high-tech companies that are able to dramatically boost the power of the equipment they make year after year. "You can have this rapid growth that doesn't make demands on labor and capital the same way that making widgets does," says Chris Varvares, president of Macroeconomic Advisers.
This link between innovation, strong growth, and low inflation has often been seen before in American history. Take the period from the 1870s on, for example. And thanks largely to dramatic improvements in manufacturing technologies, the rise of the modern business enterprise, and the opening of overseas markets, prices actually declined for prolonged periods. "Economists could see Andrew Carnegie churning out steel at lower cost and lower prices. They could see real changes in management and organization," says Richard E. Sylla, economic historian at New York University. "It was almost natural to economists back then that prices would go down with rapid economic growth."
In the 1920s, the economy roared ahead with the emergence of mass production and the spread of electricity, yet prices were basically flat. And then during the great economic boom from 1952 to 1965, inflation rose at a mere 1.3% annual rate.
This time, the driving force is investments in information technology. With white-hot competition and tight labor markets keeping an intense pressure on management to boost productivity, business is far more willing to risk its capital on new investment and innovative ways of doing business. "Low inflation begets strong growth, and strong growth begets lower inflation if that increased growth leads to more investment," says Mark Zandi, economist at Regional Financial Associates.
Indeed, business spending on information technology jumped at an annual rate of 26% in the first quarter, far above the 9% increase in 1997. Just look at EMC Corp., a $3 billion maker of data-storage products. "A lot of customers have been talking about their plans to double their storage requirements this year," says Senior Vice-President Colin G. Patteson. "We are very comfortable with projections of 30% year-over-year growth." Meanwhile, Bell Atlantic Corp. saw a dramatic increase in the demand for high-speed data lines, sending the total available bandwidth up by 43% over the previous year.
YEAR 2000. It's simple: Businesses need more computing power and telecom capacity. For example, drugmaker Eli Lilly & Co. is doing genetic research that requires a lot of computer-network bandwidth to shuttle complex files among the company's scientists. That's on top of testing more drugs and running increased clinical trials. "We're experiencing somewhere between 20% and 25% growth" annually in the demand for telecom bandwidth, help-desk support, and server capacity, says Edward Tunstall, Lilly's information officer. With computer and telecom prices falling, that translates into a 10% rise in spending.
The increases in high-tech spending are not just restricted to the largest companies. Ariel Mutual Funds Co., a mutual-fund company in Chicago with 25 full-time employees and $2.3 billion under management, is boosting high-tech outlays by 33% this year to enhance productivity and ensure Year 2000 compliance. Meanwhile, high-tech spending is up 60% this year at Sandbagger Corp. in Wauconda, Ill. The reason? El Nino-related weather problems have caused a surge in demand for the company's automated sandbag-filling machines.
Companies also are investing more in their human capital in today's tight labor market. General Electric Co., for example, will spend $300 million to $400 million this year on putting workers through its Six Sigma training program--a technique aimed at achieving near-perfect quality, from the factory floor to the bookkeeper's office. GE says that the cumulative net benefit of the Six Sigma quality initiative could approach $5 billion by the end of 2000. "When business doesn't have any pricing power, they have to make profits by becoming more efficient," says Frederic S. Mishkin, an economist at Columbia University and former research director at the Federal Reserve Bank of New York.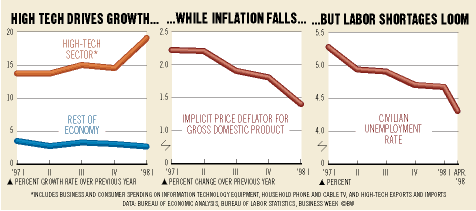 To be sure, there are some disturbing signs. One motivation for today's merger mania is an attempt to regain some pricing power, although history suggests the tactic has rarely been successful. And this all could unravel if high-tech spending slows. One result: a decline in the productivity rate that would threaten the overall economic expansion.
Nevertheless, noninflationary growth is not an oxymoron. The notion that more people working and producing more goods and services reduces the purchasing power of money is highly questionable. That's good news for both Main Street and Wall Street.
Before it's here, it's on the Bloomberg Terminal.
LEARN MORE