From The Patent Wars, A Patent Medicine
The Net can level the playing field in infringement suits
Paul C. Judge
It's the instantly recognized symbol of the Netscape brand: the animated meteor shower in the upper right-hand corner of the computer screen indicating that the browser is retrieving data from the Web. But in 1997, Wang Global Inc. claimed that it owned a patent giving it rights to this celestial display--and initiated a suit that struck at the heart of Netscape Communications Corp.'s marketing identity.
Normally, a company hit with this type of action would turn to "patent busters," specialists who use their contacts and knowledge of the U.S. Patent & Trademark Office's archives to hunt down "prior art," or evidence of preexisting claims that would undermine the patent's viability. Such searches cost around $30,000 and up, though they don't always yield paydirt. But Netscape had a better idea--it turned to the Internet. On Apr. 24, it posted on its Web site an appeal for evidence of prior art that might undercut Wang's claims. Three days later, Netscape had nearly 200 leads.
HOT CORNER. The outpouring from software developers--and the quality of their responses--galvanized Netscape. The company decided to continue fighting Wang rather than settle. It paid off: On May 7, a U.S. District Court judge rejected Wang's argument that Netscape was infringing on a 10-year-old patent for technology that used an animated icon to alert a user when a program was retrieving information. The judge ruled that the patent did not apply to the Internet; Wang plans to appeal. "Our confidence in our defense was bolstered by what the Net provided us," says Roberta R. Katz, Netscape's general counsel.
Netscape's innovative tactic signals a potentially powerful reaction against the explosion of software patents. These have grown from 1,300 issued in 1990 to nearly 12,000 in 1997 as Internet software has become a hot corner of the economy, according to the Internet Patent News Service in Belmont, Mass. At the rate of about 300 software patents issued weekly, by the year 2000, they could hit about 80,000, says Gregory Aharonian, founder of Internet Patent News Service.
Critics charge that the Patent Office can't keep up with companies clamoring to patent every little innovation in software, and therefore isn't as thorough as it should be in its review of prior art. That's leading to a proliferation of unfounded patents--and to an upsurge in patent infringement claims as well. "Get ready to be sued," warns Aharonian.
Indeed, Netscape's maneuver has opened up a new battleground in the fight for ownership of valuable ideas. Intellectual-property disputes will still be decided in court. But the Web itself is providing fodder for more software patent litigation, since claims can be challenged more quickly and without having to pay for full-blown searches for prior art every time. What's more, the Web could end up eroding the advantage that big companies have traditionally enjoyed--their ability to outspend opponents in patent battles--as more small companies follow Netscape's lead. "Patent litigation is very expensive," says Robert P. Merges, professor of law at the University of California at Berkeley. "What's so promising about this approach is that it gives smaller players an alternative."
CART COLLISION. The next target of this tactic may be Open Market Inc., which used its Web site in February to post three patents newly issued to the company. A handful of companies and Web developers are considering mobilizing on the Web to challenge Open Market's patents, which are very broad and include one on electronic "shopping carts." These enable shoppers to click on items and add them to a list of purchases as they browse the Web. They're built into nearly every major commerce site, from Amazon.com to llbean.com.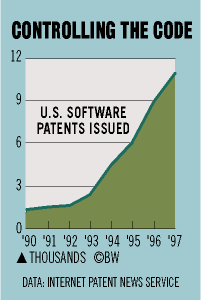 The new gambit has some pitfalls, however. "You've got to think twice before making a public plea for prior art," says Alan M. Fisch, a patent litigator at Washington's Howrey & Simon. "In some sense, you're making an enormous admission that you have nothing," when a company defends itself in such a public fashion. There is also a danger that broadcasting appeals for help will elicit a lot of junk that could burn up billable hours to sort through. Still, the Web itself has given companies, and smaller players in particular, a way to cope with the growing glut of patents gumming up electronic commerce.
Before it's here, it's on the Bloomberg Terminal.
LEARN MORE