Chipmakers Count On Synopsys
by
Computer-chip makers have been a moving target: for consumers, investors--and suppliers. Innovations are constant, a fact well-known at Synopsys (SNPS) in Mountain View, Calif. It supplies software to chipmakers, and its NASDAQ-traded stock has been a winner. Spurred by higher-than-expected earnings, the price has climbed 16% so far this year. Is it time to take profits? Not a chance, says Guy Elliffe of Jurika & Voyles, which manages $7 billion in institutional holdings.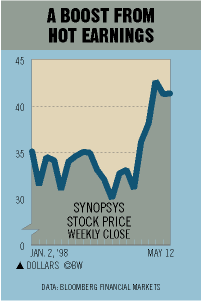 Elliffe thinks Synopsys' growth is only beginning. For one thing, he says, the company is well-placed to cash in on chips' increasing complexity. Its clients include Texas Instruments and LSI Logic, which it has hooked by such gizmos as its "PrimeTime static timing verification and sign-off" tools. Synopsys is also pioneering software for makers of ultra-sophisticated "system-on-a-chip" semiconductors, which are all the rage in chipland.
With spanking-new software coming down the pike, earnings are on the march. The company reported earnings of $25.5 million, or 18 cents a share, on revenues of $170 million in the quarter ended Mar. 31, and Elliffe foresees $1.90 in the year ending Sept. 30. He feels the stock, now at about 41, could hit the mid-50s in a year or so.
Before it's here, it's on the Bloomberg Terminal.
LEARN MORE