Bug Eyed Over The New Beetle
TRANSPORTATION: GOLD New Beetle Designer: Volkswagen of America
Bill Vlasic
No automobile in recent memory has stirred the public's fancy in the same way as Volkswagen's New Beetle. Cute as a Bug and tough as nails, the Beetle is drawing raves usually reserved for exotic sports cars or superluxury sedans. Indeed, no product this year epitomizes the nostalgia boom in product design more than the reborn Beetle. It has all the hallmarks: It brings back great memories and looks familiar, yet it packs new technology under the hood and is simple and worry-free to operate.
The new Beetle, says VW management board member Jens Neumann, is "optimism on wheels." Like the original Bug, the new version's half-moon silhouette stands out in a market flooded with look-alike models. Its rounded fenders and oversize oval headlights resemble a happy face in a sea of snub-nosed competitors. "Its shape makes you feel good by just looking at it," says IDEA juror Gerhard Steinle, president of Prisma Design International. Inside, the Bug's circular speedometer, streamlined instrument panel, and whimsical bud vase provide a pleasing alternative to the blandly functional interiors of other small cars.
But the Bug delivers more than looks. It comes equipped with both front and side airbags, plus extra structural beams in its front end and doors. The result: The 1998 Beetle is the safest small car tested by the Insurance Institute for Highway Safety.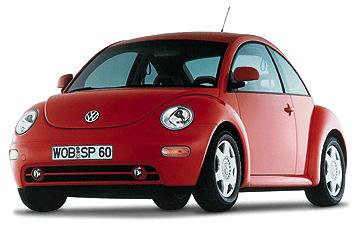 And unlike its venerable predecessor, the revamped Beetle offers loads of headroom and legroom in the front seats. The backseats, by contrast, are fit only for small children and contortionists. And at a base price of $15,700, the Bug comes with air conditioning, a six-speaker stereo, and an antitheft system. It may be compact, but it's not spartan.
Volkswagen has bet $560 million on the new Bug. It will never match the original in U.S. sales, which peaked at 423,000 cars in 1968. The original Bug dropped out of the U.S. market in the late 1970s. But VW should easily sell out the 50,000 Beetles allotted for the U.S. market in 1998. After a 20-year hiatus, the Beetle is back. That's comforting.
Before it's here, it's on the Bloomberg Terminal.
LEARN MORE