Bankamerica's `Wonderful Deal'
by
When the $65 billion merger of BankAmerica (BAC) and NationsBank (NB) was announced on Apr. 13, Wall Street reacted without wild enthusiasm. It is strictly a stock deal, with both banks' shareholders getting shares in a new company. No big premium is to be paid. The Big Board-traded shares of both banks were bid up for a day or so, only to fall back toward earth. BankAmerica, trading at 86 1/2 the day before the merger and 91 7/16 after the announcement, is now below 85. NationsBank reacted similarly.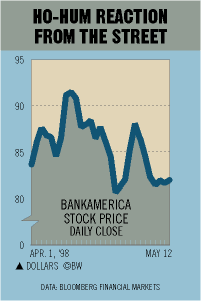 One seasoned investor in bank stocks, Dale Jacobs, disagrees with the Street's ho-hum attitude. Jacobs runs Financial Investors, which operates hedge funds that specialize in banks and other financial outfits. He thinks the company to be formed from the merger will be a big gainer. And not just in size--although it will be the biggest U.S. bank. "I think it's a wonderful deal," says Jacobs. "Yet the stock has sold off dramatically, and I can't tell you why." He notes that combining the two banks will bring genuine synergies and cost savings and that the joint company will have a great management team headed by NationsBank CEO Hugh McColl. Jacobs feels that the Street's cooling of interest could represent a stellar buying opportunity for investors who couldn't put in their buy orders when the deal was still hot.
Jacobs would play the merger by buying BankAmerica stock. Once the merger goes through, its shareholders exchange their stock, at about a one-for-one ratio, for stock in the new bank. He notes that BankAmerica stock trades at a price-earnings ratio, based on projected earnings, of 30% below the average for the Standard & Poor's 500-stock index. The discount, in his view, is unjustified by the company's growth prospects.
Jacobs feels that the new company should trade at the market's price-earnings ratio--50% higher than now--once institutions catch on.
Before it's here, it's on the Bloomberg Terminal.
LEARN MORE