A New Look For Old Friends
CONSUMER PRODUCTS: GOLD Slow Cooker Designer: Fitch CONSUMER PRODUCTS: GOLD Kitchentools Line Designers: Black & Decker, ZIBA Design PACKAGING & GRAPHICS: GOLD Bullet Wax Designer: Group Four Design CONSUMER PRODUCTS: SILVER Axius Sunshades Designer: S
by
The shift to consumer products and away from office computers in this year's Industrial Design Excellence Awards marks a significant trend. Many of the winning products are revivals and reinventions of familiar things. Here are four.
Sunbeam Corp.'s Slow Cooker is a remake of the old Crock-Pot, that heavy kitchen warhorse that has fed so many with stews and chilis. Updated with a sleeker look, lighter feel, improved heating element, and a self-stirring paddle that keeps food from burning and sticking to the sides, the Slow Cooker does what its parent did--cook a lot of food while you're away at work. And it doesn't take an hour to clean, as the old one did. "A fine example of reviving a traditional design through the clever use of new materials and processes," says IDEA juror Alvaro Correa, director of industrial design for Whirlpool. Price? Four-quart size, $35. Six-quart, $40.
Black & Decker Corp.'s Kitchentools Line harks back to the days when cooking appliances had on and off buttons and nothing else. They were simple to use and clean. Then came electronics and 14 buttons on the food processor, 12 parts, and enough choices to choke on. Creating an upscale brand of gourmet cooking appliances, Black & Decker has made each one intuitively easy to use, with oversize buttons and a minimum of parts. No instruction manual needed. Cleaning is easy and fast. A powerful motor drives each Kitchentool. Prices for some of the products: $69.99 for the hand mixer, $159.99 for the coffeemaker, $139.99 for the blender.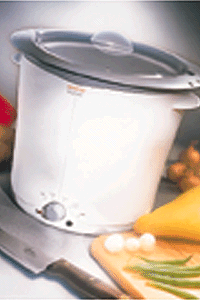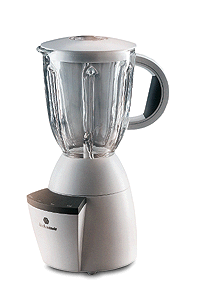 Another product reinvention is Prestone Products Corp.'s Bullet Wax Applicator, which can cut car-waxing time in half and spare you from carpal tunnel syndrome. A small pump dispenses the wax onto an oversize applicator pad that has a special ergonomic design. Price: $12.99.
Remember the original car windshield sunshades--boring pieces of cardboard and Mylar? With the Axius Sunshades, designed by Stuart Karten Design for Axius Inc., drivers can choose from a variety of colors and patterns. Today's shades are made of vinyl with a UV-protection coating and Mylar. Express yourself for $19.99.
Before it's here, it's on the Bloomberg Terminal.
LEARN MORE