A Light And Easy Land Mine Finder
BUSINESS & INDUSTRIAL EQUIPMENT: SILVER MIMID Designer: Heufler Design
by
There are more than 100 million land mines buried in 70 countries, including Bosnia, Mozambique, Afghanistan, and Cambodia. Every year, 24,000 people, almost all civilians, are mutilated by mines; 2,600 are children. The portable MIMID, or Miniature Mine Detector, from Austria's Schiebel Elektronische Gerate, can help put an end to much of that suffering.
Schiebel, one of the world's leading makers of mine-detecting equipment, wanted to create the first lightweight device that could be carried in a backpack or on a belt into remote areas and easily used by soldiers and civilians alike.
That meant putting complex, sensitive electronic components into a compact, rugged, waterproof casing that was intuitively easy to understand and use. An Asian farmer had to be able to use it as well as a Green Beret.
Schiebel turned to Gerhard Heufler of Heufler Design in Graz, Austria, for help. His design was pure symmetry. Taking inspiration from the Swiss army knife, Heufler designed a foldable mine detector that flips open and telescopes out like a camera tripod in less than 30 seconds. By using carbon fiber, titanium, and reinforced plastic, Heufler was able to get the weight down to three pounds.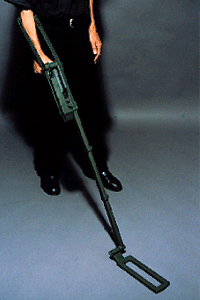 The controls for on and off, acoustics, and sensitivity are obvious, large enough, and easy to read. So is the light-emitting diode-bar optical indicator that shows the strength of the detection signal. The portable mine detector is durable and can even operate under 100 feet of water.
The MIMID was developed in cooperation with the U.S. Army Humanitarian Demining Division of the Night Vision Lab at Fort Belvoir, Va. Schiebel already manufactures the standard mine detector for most armies around the world. Israel, Jordan, the Netherlands, and Britain have shown interest in buying the new portable model.
But the MIMID, priced at $3,950, isn't affordable to Cambodian peasants searching out a safe path through the minefields to get to their rice paddies. That will require further humanitarian action.
Before it's here, it's on the Bloomberg Terminal.
LEARN MORE