A Clean, Uncluttered Wine Store
ENVIRONMENTAL DESIGNS: GOLD Best Cellars Designer: Rockwell Group ENVIRONMENTAL DESIGNS: GOLD The Newseum Designer: Ralph Appelbaum Associates
Karen Pennar
You're late for a dinner party. You dash to the corner shop--and face a dizzying array: merlots, cabernets, chardonnays, and chablis. Wines from France, Spain, Italy, and Chile. Bottles from $6 to $60. What to do?
Best Cellars, on New York's Upper East Side, has a solution. The store stocks only 100 or so wines, all under $10, organized by eight categories of taste--from "fresh" to "sweet"--rather than by type of grape or country of origin. The design of the 800-square-foot space is clean, uncluttered, and simple. The light American Sycamore paneling, burgundy walls, and backlit cylindrical storage make browsing a delight. Concise and helpful descriptions of the wines are posted above the bottles.
Winner of the IDEA gold prize for retail merchandising in the "environments" category, the wineshop was designed by New York's Rockwell Group, known for its design of restaurants Nobu, Vong, and the Planet Hollywood chain. Best Cellars' look is emblematic of the top entrants in this category. The best-designed spaces and places are like well-designed products: They are easy to use or navigate, convey information effectively, and are visually arresting.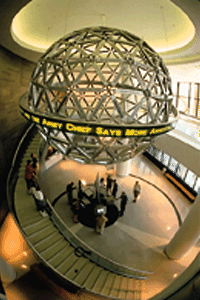 Ralph Appelbaum Associates' design of the Newseum in Arlington, Va., another gold winner, does all that with graphics and interactive displays. K J McNitt Construction Co.'s new office building in Oklahoma City shows potential clients just what the company's business is all about--through the creative use of concrete panels, special joints, and braces. What distinguishes these winners, says IDEA juror Debra Lehman-Smith, partner at the Washington architecture and design firm Lehman/Smith/Wiseman Associates, is that they offer design solutions that tell customers, museum-goers, and clients what they need to know.
Before it's here, it's on the Bloomberg Terminal.
LEARN MORE