Where Importers Live A Nightmare...And Locals Choke On Corruption
With its bright orange box, Procter & Gamble Co.'s Tide is a familiar sight in laundries around the world. But in Ukraine, it's treated like a menace to public safety. Shipments arriving at the border are placed in quarantine for several weeks while inspectors confiscate samples for laboratory testing at P&G's expense. "We've been selling detergent here for three years, yet every single truck has to be certified," says Qaisar Shareef, general manager of P&G Ukraine.
Why is Ukraine singling out Tide? If only it were. In the name of consumer protection, this former Soviet republic has set up one of the world's most grueling regulatory gauntlets. Before offering a product for sale in Ukraine, a company has to bring a team of government inspectors to the factory where it is made, paying travel expenses plus a fee of up to $10,000 per visit. Approval is granted for no more than two years, and then the process has to be repeated. For multinationals such as P&G, which imports 14 products from factories in 10 countries, that's a headache. But the alternative--as P&G discovered when its licenses lapsed recently because of a bureaucratic snafu--is to have every arriving truck and railcar halted for testing.
Still, shipment-by-shipment testing remains the only option for companies that can't afford overseas inspections. Lab tests cost $200 to $300 per item. That adds up fast when a shipment contains dozens of items: MDMT, a Ukrainian company that imports foods and alcoholic beverages, says it has had to pay up to $20,000 per truckload.
The system is not only cumbersome, it breeds corruption. In a 1996 World Bank survey of Ukrainian companies bringing in imports, 71% admitted paying bribes to obtain government approvals. And because the state takes a percentage of all lab fees, there's a big incentive to run needless tests. The public relations firm Burson-Marsteller, for example, was ordered to hand over samples of mugs it imported from Holland for a dairy promotion last fall. The authorities also insist on separate tests of closely related products, such as Head & Shoulders shampoos for normal, dry, and oily hair.
Business groups say the licensing and testing regime is a deterrent to badly needed foreign investment. "The process is unbelievable, a labyrinth," says S.C. Johnson & Son Inc.'s Dmitry Levin, an officer of the American Ukrainian Business Council. Wisconsin-based S.C. Johnson has a plant in Kiev making household cleaners, insecticides, and charcoal lighter. By manufacturing locally, it avoids the expense of overseas inspections. But inspection is only 1 of 11 steps in the licensing process, which usually takes one to three years, Levin says.
BLACK MARKET. Ultimately, it's Ukrainian consumers who suffer. They pay higher prices and have fewer goods to choose from, as suppliers narrow their product offerings to save money on inspections and testing. To be sure, shoppers can find bargains on the black market. But this shadow economy, which accounts for half of Ukraine's gross domestic product, leaves the government with another problem: It's so strapped it can't pay workers and pensioners.
While manufacturers and importers struggle with licensing, local companies are under siege by corrupt inspectors. A survey last year by the State Committee on Business Development found that the average company is visited 295 times a year by officials of 25 agencies. "Repetitive inspections are the single biggest impediment to operating a business here," says Scott Carlson, president of the Western NIS Enterprise Fund in Kiev, which invests in local companies.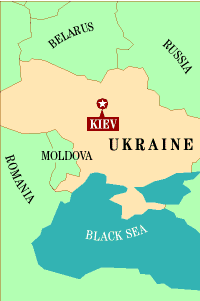 Ivan M., who runs a farm-supply business in eastern Ukraine, says inspectors visit his company "practically every day, sometimes three times a day." Speaking anonymously for fear of reprisals, Ivan admits he usually pays bribes to avoid inspection. But he draws the line sometimes. When one pushy fire inspector demanded a new car, he complained to the inspector's superiors, who told him to back off.
With such a poisonous regulatory environment, some may wonder why any company would bother doing business in Ukraine. The answer: A population the size of France's and a well-developed industrial and agricultural base make it one of the world's biggest untapped consumer markets. Now, if the government would just stop "protecting" it.