What's Making K Tel Boogie?
Internet fever and short-sellers seem to be driving the action
Edward C. Baig
The way the stock of K-TEL International Inc. has rocketed lately, you might think the music retailer has been hyping shares on late-night television. Something like its commercials for music compilations: "If you buy K-TEL now, we'll throw in a collection of disco from the '70s--plus a full-color annual report!"
After all, as recently as Apr. 8, Minneapolis-based K-TEL was residing anonymously in NASDAQ's lower reaches, trading at 6 5/8 on a paltry volume of 300 shares. Less than a month later, its share price had risen tenfold, with the trading volume on Apr. 20 blasting past 14 million shares (charts). On May 4 alone, K-TEL shares vaulted by 19 3/4, or 41%, hitting a new high of 67 3/4. A day later, the stock exhibited wild mood swings: down 6 points early in the morning, up 8 to 10 in the afternoon, then down again just before the closing bell. Final tally: up 1/8, on a volume of nearly 13 million shares.
What makes this all the more curious is that K-TEL has only 3.8 million shares outstanding, a razor-thin float. More than 70% of those are held by Chief Executive Philip Kives and other insiders. All of which gives credence to widespread suspicion that K-TEL is being caught up in a colossal short squeeze. K-TEL's executives refused comment. So did spokespeople at NASDAQ and the Securities & Exchange Commission.
Some traders see signs of manipulation. "There are individuals who will search the Internet for companies with thin floats, thin market capitalizations, and very little in the way of investor appeal," says Tony Elgindy, chairman of Key West Securities Inc. in San Diego. "And they will create an aura around these situations." David Barney, editor of Stock Investor Trading News, a tiny Austin (Tex.)-based Internet newsletter that recently issued two "strong buy" recommendations on K-TEL, says he has been fielding calls from people wondering how he's manipulating the stock, a charge he vehemently denies. "We came out with a $100 price target for the stock," he says. "But that was a 12-month target, not a 12-day target."
Elgindy, a known short, says he reversed his sell position on K-TEL after the stock closed at $21.125 on Apr. 16, and reckoned then that it could rise as high as $50 in the following 12 months. Elgindy reversed course again on May 1, when he terminated coverage of the stock with a sell rating.
K-TEL's fundamentals are certainly no great shakes. For the nine months ending Mar. 31, it earned $693,000, or 9 cents a share (reflecting a recent 2-for-1 split), on sales of $64.8 million. Says Michael Murphy, editor of the Overpriced Stock Service newsletter: "We now have a market capitalization of almost $300 million on a company that in a really good year can earn something like $4 million."
"SOMETHING IS ROTTEN." The many online investment message boards contain a lively discussion of K-TEL's stock performance. "Something is rotten in Denmark," wrote an investor at The Motley Fool Web site. "Right now, it's not even a stock, it's a trading machine," says Barney. Adds Axxel Knutson, managing director of Janssen/Meyers Associates in New York, one of the few Wall Street houses to follow the stock: "Anytime you see something like this happening, you know investors are in there smoking something."
K-TEL's leap from oblivion to the spotlight began on Apr. 9, when it unleashed plans to sell compact disks on the Web. From that point on, albeit with a few steps backward en route, the stock headed due north. The new site, called K-TEL Express (www.ktel.com), was launched on May 1 and generated a million visits in its first three days of operation. K-TEL also recently struck a deal with BPI Communications Inc. to display the Billboard music charts at the site and reached an agreement with RealNetworks Inc. to help consumers create customized CDs online.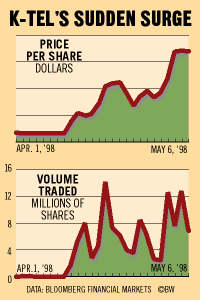 But such developments belie the fact that most folks think K-TEL's share price is ready for a fall. Some investors plunged in, analysts suggested, even after Barron's ran a negative writeup on the company in its Apr. 20 issue, luring a horde of short-sellers.
Knutson is so convinced that K-TEL's stock is overvalued that he put a prohibition on accepting buy orders. "If we see something that is patently unsuitable and irrational, we have an obligation to refuse the order," he says. Indeed, when one client tried to buy 10,000 K-TEL shares when the stock was trading at around $45, "we gave him Merrill Lynch's phone number," Knutson says. Given where K-TEL's stock has gone since, that's one customer he may not be hearing from again.
Before it's here, it's on the Bloomberg Terminal.
LEARN MORE