Prowlers At Pittston Brinks?
by
Remember Brinks armored cars? They're now a part of Pittston Co. called Pittston Brinks Group (PZB). Pittston Brinks stock, currently at 39, was created in January, 1996, to reflect just the results of its security unit. (Pittston has other such tracking stocks: Pittston Burlington and Pittston Minerals.) Less well-known than the armored cars is Pittston Brinks's other arm: the home burglar alarm business. That's the part catching the ear of some major investors. Why? In home security, Pittston Brinks was second only to Tyco International's ADT, but recent takeovers have pushed it down to No. 4. So they think Brinks is bound to be part of the industry's consolidation.
Whispers are that a biggie is poised to pounce on Brinks's home-security operation, which last year provided 16% of sales but 40% of earnings. One New York investment banker figures the unit is worth 50 a share, based on monthly recurring revenues, subscribers growth, and adjusted earnings. After Tyco, major players include Ameritech, Alarmguard, and Western Resources, which bought 80% of Protection One in 1997.
Analyst Jeff Kessler of Lehman Brothers thinks the stock is trading well below its breakup value of more than 60, and says "the value of the residential-security unit continues to increase."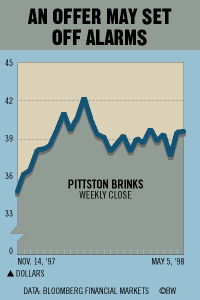 Some investors snapping up shares argue that Pittston Brinks is cheap relative to the value of its home-security business. This unit, serving 511,000 U.S. and Canadian households, isn't getting the proper valuation, they say, because it is part of a larger company.
To put Brinks's home-security on an even footing with its rivals such as Protection One and Alarmguard, the unit needs to either be sold or spun off from Pittston Brinks. Tiger Management owns more than 7% of Pittston Brinks, and Fidelity nearly 5%. Pittston spokesman Frank Hartough says the company is very shareholder-oriented but won't comment on whether it has gotten an offer for the burglar-alarm unit.
Before it's here, it's on the Bloomberg Terminal.
LEARN MORE