Is Nothing Sacred In The Ad Game?
Mad Ave adopts ad haters' most potent weapon--parody
Mary Kuntz
In Northern California, a band recently released Dispepsi, a CD pieced together from bits of music, ads, and interviews to create a scathing (and entertaining) commentary on the nation's second-largest soft-drink company. In New Jersey, a coalition of artists alters billboards in minority neighborhoods, adding touches such as a banner on a Newport cigarette ad that reads "Healthy profits don't always require living customers." And Adbusters, a nine-year-old Canadian quarterly devoted to the art of the "culture jam"--as such rearranged anti-advertising ads are called--reaches 30,000 subscribers, mostly in the U.S.
With sales messages assaulting us in every possible venue, it's no wonder that there's a growing cadre of activists who simply loathe ads and the industry that perpetrates them. What is more surprising is the growing sophistication of the backlash. Thanks to the advent of desktop publishing and the Internet, these grassroots critics are increasingly fighting Madison Avenue with the industry's own techniques. Just look at the fake ad on the back cover of Stay Free!, a tiny New York-based 'zine that critiques consumer culture. The typeface and photography look like the familiar Dewars campaign featuring attractive, sophisticated young imbibers, but the tagline reads: "Remember how liquor used to make you vomit?"
Corporate America's reaction to these lampoons is muted. "No comment," says Jan Sharkansky, a spokesperson for Calvin Klein Cosmetics Co., when asked about an Adbusters "ad" that shows a musclebound young man peering intently down his fashionable underwear under the headline "Obsession." Others in the ad community say they're barely aware of culture jammers and that, in any case, there's no advantage to trying to stop such small fry.
But while advertisers may be oblivious to the politics and polemics behind culture jamming, they have been quick to intuit the value of a clever parody. Copping the same hip, ironic attitudes and playing to the same consumer cynicism, big-time marketers have begun to lampoon one another. "It punctures the pomposity because you're telling people something real," says David Suissa, chairman and executive creative director for Suissa Miller Advertising Inc., which produced a series of parody ads for Boston Chicken Inc. last year mocking Calvin Klein's anorexic models.
"KILLING THE PLANET." Adland's embrace of parody has blunted one of the culture jammers' favorite weapons, but not their ardor. Take 29-year-old Carrie Mclaren. A record promoter by day, she publishes Stay Free!--with such articles as "Singled Out: An alarmist look at ultra-targeted marketing"--largely at her own expense. Why? "It's not just advertising, it's the overall commercialization of the planet," she says. Others cite ecological concerns. "We believe that our corporate culture is unsustainable," says Kalle Lasn, Adbusters' editor and founder. "Economic progress is killing the planet."
Mark Hosler of Negativland, the Bay Area band that released Dispepsi, also believes that the sheer volume of advertising is degrading to the mental and physical environment. "It isn't that advertising per se is evil, it's the amount of it that's going on," says Hosler, whose band coined the term "culture jamming." He argues that the wealth and might of giant marketers makes it difficult for opposing viewpoints to be heard. The aim of culture jamming: to break through that clutter by playing off the powerful messages and icons already out there.
There's also a political strand. Cicada Corps of Artists, the New Jersey group, alters tobacco and liquor billboards in minority neighborhoods, which they say receive a disproportionate share of such advertising. Defacing billboards is illegal, but group member Pedro Carvajal believes their activities are justified: "Alternatives have been taken away because they [advertisers] have all the money. We had to go underground."
Advertisers say the backlash from fringe groups is simply too puny to register on their radar screens. Maybe, but some parody protest ads have begun showing up in more traditional media. During a labor dispute with a Miller Brewing Co. distributor in St. Louis three years ago, the Teamsters put up a billboard mocking a Miller ad. Instead of two bottles of beer in a snowbank with the tagline "Two Cold," the ad showed two frozen workers in a snowbank labeled "Too Cold: Miller canned 88 St. Louis workers." Ron Carver, coordinator of strategic campaigns for the Teamsters, says the union has since used similar parodies in disputes to great effect. "When you're doing this, you're threatening multimillion-dollar ad campaigns," he says.
Tobacco lampoons have also moved into the mainstream. Scott Plous, a psychology professor at Wesleyan University, is incensed at what he sees as the blatant appeal to kids by Big Tobacco. So a few years ago, he countered with his own cartoon character, Joe Chemo, who bears more than a passing resemblance to a certain familiar dromedary. With the help of various antismoking groups, Joe Chemo has moved from the pages of Adbusters to billboards in downtown Seattle, posters in public schools, and T-shirts given away to kids.
LAWSUITS. Many big brands aren't as willing to shrug off the spoofs when they're done nationally by a fellow marketer. Digital Equipment Corp.'s discomfort with rival Hewlett-Packard Co.'s parody was understandable. Running just once in a few national publications, the ad replaced the "Digital" in the company's trademark red blocks with the word "worried?" in the same typeface. Appealing to customers left anxious by DEC's recent merger with Compaq Computer Corp., the ad brought in millions of dollars of business, says Nick Earle, marketing manager for HP's Enterprise Systems Group. Digital's response: a letter to HP alleging trademark infringement and demanding a halt to the ads.
Even mainstream ad parodies that aren't launched by rivals often seem to result in allegations and lawsuits. Mattel's sensitivity on the subject of Barbie is legendary. The company moved quickly to quash a recent Nissan ad that featured Barbie-and-Ken-like dolls. And Nike Inc., whose attitude-filled commercials have made it a favorite parody target, found nothing humorous about a recent campaign by Candie's Inc. for colorful new sneakers featuring actress Jenny McCarthy. The tagline: "Just Screw it." Nike fired off a cease-and-desist letter.
Heineken USA Inc. avoided litigation by taking parody a step further. A campaign for its Amstel brand involved billboards and TV spots denouncing it as an evil import from "free-thinking" Amsterdam. The campaign, supposedly by the fictitious Americans for Disciplined Behavior, won publicity when the prank was uncovered.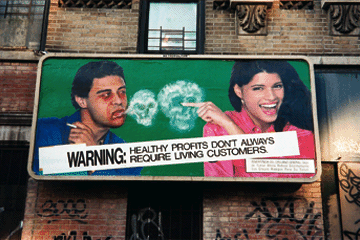 As the loop closes, it's getting harder to tell those who parody from those who are parodied, partly because it is virtually impossible to shame Madison Avenue. Two years ago, Negativland's Hosler got a call from hip Portland-based ad agency Wieden & Kennedy Inc. raving about the band's work and asking if it would like to make a spot for Miller. "I think they were sort of mystified about why we turned them down," he says. And that may be the ultimate irony. Advertisers crave a hip, cutting-edge attitude--even if it comes from their most ardent detractors.
Before it's here, it's on the Bloomberg Terminal.
LEARN MORE