France: Growth As Far As The Eye Can See
by
As the Jan. 1, 1999, launch for Europe's single currency, the French economy is enjoying a solid recovery that should extend into next year. Weakness in Asia will depress exports, but with consumer and business confidence on the rise, increased consumer spending and business investment will boost the economy. Strong growth also promises further reductions in the budget deficit.
Real gross domestic product should grow 3% in 1998, up from 2.3% in 1997. That faster pace will ensure continued improvement in France's labor markets. Unemployment has declined in six of the past seven months, pushing the March jobless rate to a two-year low of 12%, from 12.6% last June. March hiring was broad with gains in temporary and full-time jobs.
Stronger labor markets head the list of pluses in the consumer outlook. Better job growth and a one-percentage-point drop in inflation, to 0.8%, over the past year are fueling growth in real incomes. Also, tax-law changes have lessened the incentives to save, generating more spending. Sales of big-ticket items such as autos and furniture are robust.
In addition, 10-year bond yields hit a record low of 4.85% in late March, and they remain low enough now to hold fixed mortgage rates at about 5%. Housing starts jumped in March, helped by mild weather, and housing is also getting a boost from a new tax break for people who buy a second home and rent it out.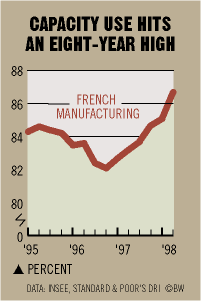 Amid firmer domestic demand, the latest survey data show that businesses are gaining the confidence to increase their output and inventories and invest in new equipment. Makers of capital goods are especially optimistic.
Right now, French manufacturing--and the overall economy--are stronger than Europe's generally. And the resulting healthy inflow of revenues is why the government is projecting that its budget deficit will fall from 3% of GDP in 1997 to 2.9% in 1998 and 2.3% in 1999. But there is a downside: All that shrinkage is cyclical. Without new structural cuts, the fiscal improvement will reverse when economic growth slows.
Before it's here, it's on the Bloomberg Terminal.
LEARN MORE