Consumer Sizzle Could Overcook Mexico's Economy
With buyers out in force again, policymakers start to worry
Elisabeth Malkin
With the World Cup a month away, Jose Luis del Razo is shopping for a new TV set so he can enjoy the soccer marathon in style. In the consumer electronics section at El Palacio de Hierro, an upscale Mexico City department store, del Razo, a dentist, is enticed by the 12-month, interest-free payment plan. And he has the money. "I feel a slight improvement" in the economy, he says, raising his voice above the thump of a rock video playing nearby. "It's small, it's slow, but it's there."
Overcoming ingrained skepticism, Mexicans are finally believing in recovery--and they're persuaded by gains that are not so small. For the first time since the December, 1994, peso crash, Mexicans are taking home real wage increases this year, averaging 4%. And they are making purchases they had put off since salaries fell some 25% in 1995. Spurred by generous credit offers, consumers such as del Razo are out in force buying new cars, televisions, and microwave ovens. Their buying pushed retail sales up almost 11% in January and February over the same months in 1997. In March, new-car sales jumped 86% year-to-year. Such consumption is becoming Mexico's engine of growth: It's driving an expected 4.5% economic expansion in 1998 after last year's sizzling 7% gain, which was powered mainly by exports and investment.
That shift is stirring fears among policymakers that the economy may overheat. President Ernesto Zedillo Ponce de Leon must walk a fine line between reassuring financial markets that he will steer a prudent economic course and the political cost of reining in growth. The opposition is already decrying cutbacks in areas such as education and housing following Zedillo's $2.85 billion budget cuts earlier this year to offset revenue losses from the oil price drop. Zedillo also risks rebellion within his own Institutional Revolutionary Party (PRI) if PRI candidates fear that moves to cool the economy would jeopardize their chances in 10 gubernatorial elections this year.
The most worrisome omen is Mexico's widening current-account deficit, to an expected $14 billion to $15 billion in 1998, up from $7.5 billion in '97. The Bank of Mexico warned on Apr. 29 that continuing deterioration in the current account, which includes trade in both goods and services, could force fiscal and monetary policy changes--a clear threat that authorities won't hesitate to cut spending and hike interest rates if needed. In the first quarter, imports rose 27.2% overall, and consumer imports jumped 54.6%, while low oil prices kept export growth to just 12%.
"BRAKES ON." Policymakers recall that a consumer frenzy preceded the peso crisis. Free-flowing credit financed a spending boom, and the 1994 current-account deficit swelled to $29.4 billion. Four years later, shoppers are more cautious. "A lot of people don't want to risk credit," says Fernando Ripoll, general manager of a Mexico City Ford dealership. When they do, it's on manageable terms. Ripoll and other dealers, backed by Ford Motor Co.'s credit subsidiary, offer a zero-interest-payment plan for up to two years with a 35% downpayment.
Zedillo and the central bank have also learned from the 1994 debacle. With the 2000 elections nearing, Zedillo wants to make sure he won't end his six-year term amidst a financial upheaval--a regular occurrence in election years over the past two decades. While direct foreign investment should cover much of the current-account deficit, sooner or later "you have to put the brakes on," warns economist Francisco Nunez de la Pena with Grupo Financiero Bancomer.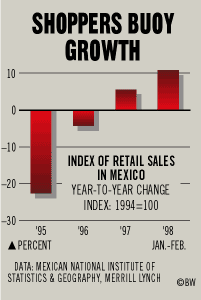 But not just yet. Mexicans still earn almost 20% less than they did in 1994, and Zedillo knows he'll stir citizens' wrath if after years of belt-tightening he takes away their chance to splurge a little. That's what Silvia Rodriguez, a secretary, and her husband, Humberto Bernal, an accountant, are doing. In the past three months, they have bought a videocassette recorder and a TV set on Palacio de Hierro's 12-month plan. "There's more money now for these little luxuries," says Rodriguez. Although she knows that could change, this month she's buying a new compact-disk player.
Before it's here, it's on the Bloomberg Terminal.
LEARN MORE