Can The Jockey Club Put On A Burst Of Speed?
It's working hard to stem a slowdown in Hong Kong racing
by
It was a glorious moment for Hong Kong racing. As 50,000 fans at Sha Tin racetrack roared in excitement on a Sunday afternoon in April, local Thoroughbred Oriental Express charged from the rear of the pack to win the Queen Elizabeth II Cup, one of the former British colony's most prestigious races. Moments later, the horse's owner, Larry Yung, chairman of CITIC Pacific Ltd., basked in the winner's circle as he hoisted the gold trophy and collected the $680,000 purse.
Just another day at the races in gambling-mad Hong Kong, where locals bet more money than at all the major American tracks combined. Indeed, the Hong Kong Jockey Club, the not-for-profit organization that has exclusive rights to betting in the territory and expects to collect $12 billion at the counters this year, is a pillar of Hong Kong's economy. The $1.7 billion it forked over in taxes last year amounted to 10% of total government revenue, allowing Hong Kong to keep its low-tax regime and still earn enough money to subsidize a generous public housing and hospital system. Throw in the $135 million it donates to charities each year, and the Jockey Club is perhaps one of the most important organizations in Hong Kong.
So why is Lawrence T. Wong, the Jockey Club's chief executive, worried? With the economic crisis sweeping through Asia, the club's continued growth is no longer a sure thing (chart). Attendance at its two tracks is slipping. Revenue growth, just 1.9% this season, isn't keeping pace with inflation, meaning its $260 million surplus last season may be markedly smaller this year. Meanwhile, competition for the leisure dollar is increasing, and changing consumer habits are threatening the club's base. "Part of my job is to make people aware of the risk we are facing," says Wong.
FOCUS GROUPS. To stem the decline, Wong has launched a restructuring program based largely on lessons he learned in his 31 years as a Ford Motor Co. executive. Wong is the first naturalized U.S. citizen to run the longtime preserve of British military officers, and his goal is to sell horse racing as he would a Taurus or Explorer. He has frozen hiring, axed some divisions, and outsourced computer services. He has started focus groups and new programs aimed at women, such as introductory classes on the basics of horse racing. To attract families, Wong has opened McDonald's outlets at the tracks, a first for the hamburger chain.
And Wong, a 58-year-old aerospace engineer who joined the club two years ago, is taking the conservative institution into risky areas. The Jockey Club is a partner with Hong Kong Telecommunications Ltd. on its new interactive-TV service. "Racing On Demand" allows would-be bettors to look at the previous five races of a favorite horse.
The innovations are necessary because the nature of racing is changing. Technology now lets racetrack operators from Australia or Gibraltar target Hong Kong's bettors with Internet gambling. And perhaps most dangerous of all, demographics are shifting. The leisure habits of young middle-class Hong Kong men are changing as their tastes come to resemble those of their counterparts in the West--where the popularity of horse racing is also plunging and attendance is sagging. "As an entertainment medium, it's getting a bit stale," says a prominent Hong Kong consultant. "It needs repackaging and remarketing."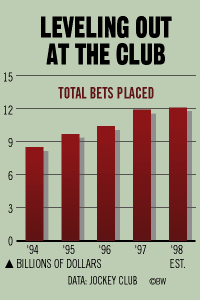 Some of Wong's changes have offended purists. The promotions, including a "Ladies' Day" discount, are "a bit supermarket-tabloidy," says Robin Parke, chief racing correspondent for the South China Morning Post. Still, longtime track goers say that Wong is starting to show results. Even the clerks, once known for their sometimes brusque manner, are cracking a smile. "When you bet at the counter, the staff wish you good luck," says Dick Tse, editor of Racing World magazine in Hong Kong. "Everybody likes to hear that." But with Hong Kong's economy weakening and layoffs mounting, the Jockey Club will need more than smiles and kind words to keep the cash machine at a gallop.
Before it's here, it's on the Bloomberg Terminal.
LEARN MORE