Air Bags Are Deflating Trw
Its auto parts unit is a drag on the whole company
Peter Galuszka
Lights flash and an alarm blares. Inside a massive room at a TRW Inc. test facility north of Detroit, two crash-test dummies sit wired to the front seats of the skeletonized cab of a Ford Explorer. With a resounding wham!, an air-pressure ram smacks the test sled. In less than the blink of an eye, air bags pop open to stop the dummies. Data from high-speed cameras filming the scene should help TRW develop safer air bags, which it will use to beat back ever-tougher rivals.
At least that's the way it's supposed to work. But like its crash-test dummies, TRW is getting knocked around pretty savagely in air bags these days. While the Cleveland-based conglomerate tries to apply its vaunted technology--gleaned from work with military satellites and lasers--to make more intelligent air bags and other auto parts, car companies today are more interested in systems that cost less. Price pressure has become brutal in a business that TRW practically invented 20 years ago, slicing margins in what was once a rich gravy train. Drivers'-side air bags that used to cost $100 now go for $45.
With air bags accounting for about 30% of TRW's $10.8 billion in revenues last year, that has sliced returns for the entire company. Operating profits in car parts--60% of sales overall--have slid 9% in the past six months. The result: Despite a thriving defense and space business, TRW's net income rose just 9% in the first quarter, to $129 million. Company executives figure sliding air-bag margins trimmed net by $19 million.
TOO STODGY? Worse, analysts and competitors say TRW is losing ground in the price war. TRW disputes this, but Analyst Kenneth Blaschke of B.T. Alex. Brown Inc. in San Francisco says its air bag share peaked at 36% in 1996 and could dip to 26% next year. Nibbling away at TRW and No.2 Autoliv of Sweden are Breed Technologies Inc. and newcomers such as Takata Corp. of Japan.
After TRW's annual meeting on Apr. 29, President Peter S. Hellman promised that if some car-parts units didn't improve margins, they could be sold. But air bags were excluded. Chief Executive Joseph T. Gorman, 60, believes TRW is positioned to ride out the storm. Gorman expects margins to pick up again with increased sales of side-impact air bags, which Ford Motor Co., TRW's largest air bag customer, will offer on 1999 Cougars. The company has high hopes for "smart" bags with sensors that inflate to match a passenger's weight or position in the car. "Our hope is that we can further distinguish ourselves from our competition," Gorman says. "That, at the end of the day, is how you get more price."
Wall Street appears unconvinced. Some institutional investors have sold blocks of shares, most notably Putnam Investments. TRW's stock price of 53 is 13% off its peak of 60 7/8 last October. While the stock beat the Standard & Poor's 500-stock index for the five years ended last May, since then it has badly trailed both the S&P 500 and the S&P SuperCap Auto Parts and Equipment indexes.
Critics wonder if Gorman's team is too stodgy to fix the parts unit. Some suggest it's time to spin it off from defense--especially as consolidation sweeps the parts industry, capped by Dana Corp.'s $3.4 billion deal to buy Echlin Inc. "They're plodding along. Why not get rid of one or the other?" says analyst Eli S. Lustgarten, of Schroder Wertheim & Co. in New York.
It's not the first time Gorman has heard that argument. A familiar face in Washington, D.C., where he has worked to promote free trade and academic improvement through the Business Roundtable, Gorman says similar gloom surrounded the defense side when the cold war ended. TRW cut back two-thirds of its defense workforce and narrowed its focus. Today, space and defense--which contributes 40% of overall revenues--is soaring. In the past six months, the group's operating profits rocketed 43%, to $114.7 million. The company is ramping up for such exotic projects as a $1.5 billion X-ray telescope set for launch later this year. And in a move to tap a rising commercial market, it paid nearly $1 billion last year for BDM International Inc., a leading supplier of computer systems to government and business.
TRICKLE-DOWN. Gorman argues there's a potent trickle-down effect from the rich pool of 17,000 engineers and scientists at TRW's sprawling Space Park in Redondo Beach, Calif. Some of the electronics for air bag sensors and electrical steering modules come from advanced satellites. Yet customers and competitors don't see that TRW's space-age glitz gives it much of an edge. "There's not a huge advantage for TRW to have this huge technology center. If so, it's not reflected in their electronic crash-sensor products," says Charles J. Speranzella, vice-chairman of Breed, based in Lakeland, Fla. Breed bought AlliedSignal Inc.'s air bag business last year and has a deal to make sensors with Germany's Siemens. Breed is slashing costs to stem losses but has picked off some of TRW's market share.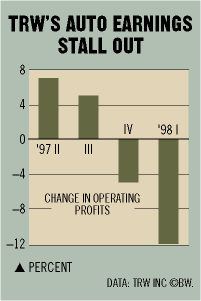 As air bags increasingly become a commodity, customers add that there's not much difference among them. "It's really hard to say if one air bag supplier is better than another," says Priya Prasad, a safety engineer and air bag expert at Ford. Auto makers also have been slow to commit to some of TRW's other high-tech parts. Take electronically assisted steering columns. TRW says they have fewer components than hydraulic steering, can be programmed to make steering more responsive, and can save up to two miles per gallon. But carmakers and competitors say that no one knows what would happen to a driver who loses electrical power. Besides, it's expensive to get the entire industry to switch parts and service networks over to electronic steering. So while TRW will start installing a hybrid unit on Opel Astras in Europe later this year, it has yet to land a U.S. order.
Gorman says TRW can afford to wait for those technologies to mature. And he believes that when the smoke clears from the great air bag smash-up, TRW will be stronger than ever. Investors who have stuck with him will have to hope he's right--otherwise, they could be the ones left looking like dummies.
Before it's here, it's on the Bloomberg Terminal.
LEARN MORE