U.S.: The Snake In Wall Street's Eden
1998 is looking more and more like the year reality creeps into paradise
by
Is there trouble in paradise? Wall Street's dream combination of solid economic growth and profits, along with low inflation and interest rates, is under siege. The markets have built their idea of nirvana on two beliefs: that profits would continue to grow strongly and that the Federal Reserve would either stay on the sidelines or, because of Asia, even ease policy. Stocks and bonds are currently priced to reflect those beliefs.
Recent events, however, have shaken both tenets to their roots. Despite good economic growth fueled by booming domestic demand, first-quarter profits were a letdown--probably more as a result of rising labor costs than the Asian crisis. And rumblings that the Fed has shifted its focus to the possible need to raise interest rates has hit the markets with a double dose of bad news. Nothing is more basic to stock valuations than earnings and rates, and that makes the stock market especially vulnerable right now.
The snake in Wall Street's Eden: 1998 looks more and more like the year when economic reality overtakes nirvana. That is, exceptionally strong economic growth and red-hot labor markets will eventually have unfavorable consequences for profits and Fed policy.
Asia was supposed to be the catalyst that slowed the economy to a more Fed-friendly pace. But the expansion appears to have taken Asia's best punch with barely a flinch. Aside from some weakness in exports and manufacturing (chart), there is nothing in the latest data to show that Asia by itself is slowing the economy sufficiently to blunt rising labor costs or ease the Fed's growing concern that overly rapid growth in 1998 could fuel inflation in 1999.
RECENT MARKET JITTERS clearly reflect these worries. Long-term bond yields rose above 6% on Apr. 27 for the first time since early March, and the Dow Jones industrial average fell by 286 points during the week ended on Apr. 28.
The trigger for the big sell-offs in both stocks and bonds on Apr. 27 was an apparent leak to The Wall Street Journal that the Fed at its Mar. 31 meeting replaced its neutral policy stance with a formal bias toward future tightening, very likely reflecting the economy's persistent strength. That move doesn't mean the Fed will lift rates at its May 19 meeting, but it sent an unexpectedly hawkish message that shocked Wall Street.
Indeed, hawkish sentiment at the Fed is growing. In recent weeks, a chorus of Fed governors and district presidents have voiced their uneasiness over tight labor markets and Asia's failure to slow the economy. Most recently, a Reuters report on Apr. 29 said that an upcoming publication by the Cleveland Fed warns of the inflation risk of current monetary conditions.
History shows that, prior to a rate hike, Fed Chairman Alan Greenspan tries to prepare the markets with some tough talk. His first opportunity will be in Nashville on May 2, followed by a speech in Chicago on May 7. Some jawboning might serve as a surrogate for Fed tightening if it raises long-term interest rates and knocks some air out of the stock market. However, previous efforts in that direction have produced only transitory results.
FED POLICYMAKERS KNOW that low rates and huge wealth gains have played key roles in consumer spending and housing. A buying frenzy by households led economic growth last quarter, and consumers began the second quarter as euphoric as ever. The Conference Board's index of consumer confidence rose to 136.7 in April, up from 133.8 in March and close to the 29-year high of 137.4 set in February (chart).
Jobs and incomes are driving optimism. More people in April than in March expected overall employment and incomes to rise in the next six months. Consumers' happy state also reflects the soaring stock market, since about 42% of households own stock, according to Fed data. And because of the great returns consumers are earning on their investments, they can spend more and save less.
What is uncertain, though, is how small investors would react in the face of a major correction. Although investors may not liquidate their holdings, especially those held in 401(k) plans, the "lost wealth" feeling may put a damper on household spending, exacerbating any resulting economic slowdown.
Consumers have also reaped a huge benefit from the buoyant bond market via cheap mortgage rates that have ignited a housing boom. New single-family homes sold at an annual rate of 828,000 in March, down from 872,000 in February, but the uptrend remains in place (chart). Existing homes sold at a record 4.89 million pace in March and strong home buying has spilled over into sales of furniture, electronics, and appliances.
El Nino also helped the housing industry, since builders could start projects at a time when the ground is usually too frozen to dig. Of course, since so much construction was pulled forward into the winter, starts are likely to dip in the months to come. The big danger is that a decline in wealth and a rise in mortgage rates could intensify any drop-off in housing.
THE HOPE OF MOST ECONOMISTS and Fed policymakers was that Asian weakness would slow the economy. However, some of the Asian effects have been favorable, such as lower interest rates, cheaper commodities--especially oil--and lower inflation, which has boosted consumers' buying power.
The crisis has clearly hit the factory sector through exports. Durable-goods orders have weakened, partly because of swings in aircraft bookings. But even excluding planes, orders have flattened out. Overall bookings rose 0.4% in March after falling 0.8% in February.
In addition, the backlog of unfilled orders has fallen sharply in recent months, suggesting less production in coming months. But manufacturing is only about 20% of the economy, and the Fed would like to see evidence of broader braking. If the economy doesn't slow soon enough to loosen labor markets, the Fed very likely will feel compelled to hike interest rates.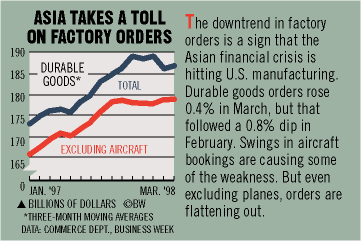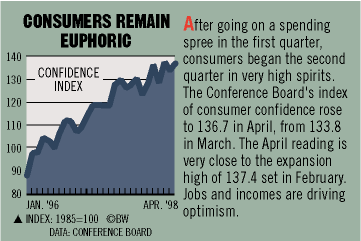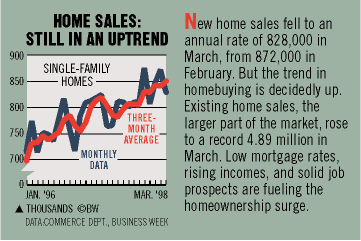 Such a move would hammer stock valuations. Right now, the average price-earnings ratio of issues in the Standard & Poor's 500-stock index is 23, based on First Call Inc.'s '98 earnings projection. That's high by historical standards, and the projected 6.7% rise in earnings from 1997 may well be too optimistic. Also, stocks are increasingly pricey relative to bonds. That p-e ratio implies an earnings yield of 4.4%, which already pales in comparison with the 5.8% competing yield on 10-year Treasury bonds.
Measured either way, stocks are in nosebleed territory and exposed to profit and rate shocks. The risks make the Fed's job harder because policymakers fear that the higher stocks are, the harder they'll fall.
Before it's here, it's on the Bloomberg Terminal.
LEARN MORE