These Oil Rigs Are Sitting Ducks
by
Why are some money managers buying Global Marine (GLM), whose stock has slid downhill lately? It "has become a sitting duck," says the head of a New York hedge fund that invests chiefly in oil-related issues. He says the decline, the result of management woes and a drop in oil prices, opens Global Marine up to a takeover.
An international oil-and-gas contractor with 31 offshore rigs, "Global Marine is a play on the resurging demand for rigs--and an attractive buyout target," argues this pro. The stock hit 35 on Nov. 5, dropped to 19 in January, and has since crept up to 23.
One outfit rumored to be interested is Santa Fe International, the leading contract driller. Santa Fe, owned 66% by Kuwait Petroleum Corp., "has the critical mass and deep pockets" for a deal, notes one Global stakeholder. Santa Fe's fleet "would best fit with a company with premium rigs such as Global," he says. A Santa Fe spokesman declined comment.
What's Global Marine worth? In a buyout, 35 to 40 a share, figures the hedge-fund manager, based on recent deals. One factor expected to persuade management to do a deal is the problem of finding a successor for CEO Russell Luigs, 65, when he retires.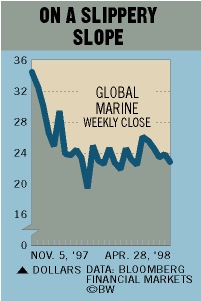 Analyst Kevin Simpson of Merrill Lynch thinks that, on fundamentals alone, Global Marine should climb back to the mid-30s in the next 12 to 18 months. For 1998, he expects $2.05, vs. 1997's $1.58.
Santa Fe operates mainly outside the U.S., with 26 marine rigs and 28 land rigs in 16 countries. Acquiring Global Marine would give Santa Fe a huge market in the U.S., chiefly the Gulf of Mexico. With Global Marine's premium fleet, and as the region's largest provider of management services, it has benefited from this resurgence, notes Norman Rosenberg of Standard & Poor's. Global Marine didn't return calls.
Before it's here, it's on the Bloomberg Terminal.
LEARN MORE