Setting Up Shop In `Italy's Mexico'
Lured by low labor costs, small businesses flock to Romania
Monica Larner
In a century-old stable turned textile factory near Timisoara, Romania, 50 local workers toil in shifts around the clock to churn out spools of chenille--a velvety cotton cord--for export to Italy. Set up last spring by Stefano Turini, an entrepreneur from Florence, the tiny factory earned $70,000 on sales of $700,000 in its first year of operation. Turini is so pleased that he is planning to hire 25 more workers and move to a plant with twice the capacity.
Lured by tax breaks and low labor costs, Italy's small businesses are flocking to Romania. In the past six years, more than 6,000 Italian investors have poured capital into Romania. Trade between the two countries has tripled since 1993, to more than $3 billion, making Italy Romania's largest trading partner (chart). Italians have invested a total of $250 million--in everything from textile and shoe manufacturing to woodworking, real estate, and mushroom-growing. They're making the move both to boost competitiveness and to gain a foothold in Central and Eastern European markets. "In many ways, Romania is Italy's Mexico," Turini says. "There are big opportunities here."
Many of the investors come from Italy's prosperous north, where unemployment is close to zero and unit-labor costs are the country's highest. Companies are attracted by Romania's average monthly wage of $120--compared with $2,000, including benefits, in Northern Italy. Romanian managers earn $300 a month, while Italian executives in Romania earn $6,000, including expatriate allowances. To promote investment, Romania excuses many foreign companies from paying customs duties and the 20% value-added tax. On a case-by-case basis, the government also slashes companies' tax bills by as much as 50%, depending on how much they invest. The official tax on corporate profits is 25%. "Italian manufacturers can expect to save 60% making the same product with the same material in Romania," says Mario Moretti Polegato, president of Geox, which produces 200,000 pairs of shoes a year in Romania.
Thanks to their flexibility, Italy's mom-and-pop businesses are well-suited to Romania's unpredictable business climate. Compared with other Central European countries, Romania is still far behind in the transition to a market economy. The economy shrank by 6.6% last year, while inflation topped 150%. The country's new reformist Prime Minister, Radu Vasile, has pledged to streamline government, root out corruption, and accelerate privatization, which has so far crept along. That could provide more opportunities for Italian investors, who will be allowed to bid for up to $1 billion in assets that Vasile hopes to put on the block this year.
FRESH SKILLS. Local workers and managers are eager not just for capital but also for training from Italian partners. "We want to learn everything on how to run a successful business," says Constantin Faget, a Romanian partner in the Italian-owned Euroflex shoe company. Faget used to work an eight-hour shift at a state-owned textile mill in Timisoara. Today he is in charge of hiring, training new employees, distributing wages, ordering material and supplies, and maintaining the Italian-made machinery used in shoemaking. Although he now works 16-hour days, he earns about $250 a month--three times what he made in communist times.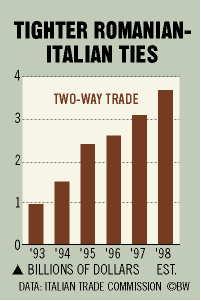 As Italian companies have moved east to Romania, a whole new service sector has sprung up to support them. New accounting, consulting, and personnel agencies are helping Italian entrepreneurs deal with bureaucracy and find local talent. Frequent charter flights link Timisoara with Bologna, Treviso, Trieste, and Verona. The increasingly cosmopolitan Romanian city now boasts more Italian than Romanian restaurants, while many locals converse easily in Italian.
All this makes the once desperately backward country a far more hospitable place to live as well as do business. That's why Stefano Turini has asked his 22-year-old son, Diego, to join him as partner in his flourishing Romanian textile company. With business surging, the two Italian entrepreneurs have no intention of heading back home.
Before it's here, it's on the Bloomberg Terminal.
LEARN MORE