John Malone: Cable's Comeback Kid
TCI's boss is back--and ready for the digital future
by
John C. Malone looks a little grayer and a touch stooped. It has been two rough years at the helm of Tele-Communications Inc., battling falling subscriber rolls, mounting debt, and the anxiety of investors who feared the chairman of the No.1 cable company had lost his way. But as he strolls the halls of Denver's Convention Center at a TCI-sponsored shindig for stock analysts and investors, Malone attracts a cluster of admirers. "Hey, you guys act like I've been away," he chides.
Now, Malone is back. After some savage cost-cutting that axed more than 2,500 employees and scaled down plans to lay fiber-optic wires, the once unwieldy cable giant is in fighting trim again. In the year just ended, TCI reported cash flow of $2.97 billion, a 30.7% increase from 1996, on $7.6 billion in revenues. In early April, Moody's Investors Service raised TCI's debt to investment-grade status. At the moment, no cable company is better poised to benefit from the industry's delayed but fast approaching digital future: Furious dealmaking has given TCI all or partial ownership of as many as one-quarter of the nation's 65 million cable subscriptions. "I'm hard-pressed to come up with another company that has turned around so quickly," says Salomon Smith Barney analyst Spencer Grimes.
Like TCI, most of cable is on the rebound. By the end of 1998, as many as 47% of the nation's subscribers will have two-way fiber-optic wiring in their homes, giving cable the fastest pipeline to deliver interactive services such as pay-per-view movies, electronic shopping, and data services. The prospect of a captive audience with living rooms reached by high-speed links lured the likes of Microsoft Corp. founders William H. Gates III and Paul Allen into investing in cable. It also has prompted a doubling of cable stock prices in the past year. By 2003, the rush of digital services will give the industry cash flow of $26 billion, says Salomon's Grimes, more than double its expected $12.6 billion in 1998.
No company benefited from cable's new allure more than TCI, whose stock has nearly tripled in the last year, to 30 3/4 on Apr. 28. Once derided for his declaration of a 500-channel cable universe, the TCI chief is negotiating from strength once more. In February, he played software giants Microsoft and Sun Microsystems Inc. against each other and won concessions for the new generation of digital boxes that will reach consumers late next year.
Taking advantage of cable's new popularity, Malone has invited "anchor tenants" to help defray the cost of the 6 million boxes TCI has ordered from General Instrument Corp. In return for the exclusive right to supply their services to TCI subscribers, BankAmerica Corp. and Intuit Inc. are paying an estimated $50 of the $300 cost for each TCI box. Now the cable company is said to be looking at other such deals, including an estimated $1 billion from AT&T, which wants to utilize cable's entry to the Internet to launch local phone service.
"SMARTEST THING." Putting TCI back in such a commanding position took some doing. As recently as late 1996, Malone was breaking the bad news that the company had lost 70,000 cable subscribers and would show only a 3% increase in earnings before interest, taxes, depreciation, and amortization--less than a third of analysts' projections at the time.
Then Malone brought in longtime cable exec Leo J. Hindery as president in February, 1997. Hindery quickly reduced planned rate hikes and nixed a nationwide service center, dividing TCI's operations into six separate regions to provide better service and marketing closer to the consumer. And to wipe $4.5 billion in debt off TCI's balance sheet, Hindery put 3.8 million subscribers into 12 joint ventures with other cable companies. "Hiring Leo was the smartest thing John has ever done," says Gordon Crawford, senior vice-president of Capital Research & Management Group, which holds 8% of TCI's shares.
Hindery is as unlike Malone as could be. Previous TCI brass were often brusque with investors, the press, and even fellow cable execs, but Hindery charms outsiders. When Malone and News Corp. Chairman Rupert Murdoch locked horns over Murdoch's plans to compete via satellite, Hindery quietly negotiated the truce by which News Corp. contributed its fledgling ASkyB service to the cable-run Primestar consortium in exchange for carriage of his programming. Then Hindery traded TCI's 800,000 New York-area subscribers for a one-third interest in Cablevision Systems Corp. and also won the rights for TCI's 50%-owned Fox Sports Network to televise the New York Knicks and Rangers.
NET MERGER? With Hindery at the controls, Malone was freed to focus on strategy and structure complex deals. Malone now has a sizable constellation of holdings in everything from AT&T and General Instrument to cable operators Time Warner and Cablevision. Malone has also been working behind the scenes to negotiate a merger between TCI's 40%-controlled Internet service @Home Corp. and Time Warner Inc.'s Roadrunner, cable's other big Net service.
The latest joint ventures broaden TCI's reach into some of the largest markets, whose subscribers have great buying potential, says NationsBanc Montgomery Securities analyst John Tinker. By yearend, predicts Tinker, the 1 million or so TCI customers with new digital boxes will generate $262 million in new revenue and provide profit margins of 74%.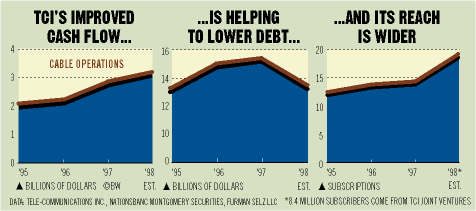 TCI isn't out of the woods yet. Its financial woes have put it behind rivals in rolling out sophisticated technology. To catch up, it will spend nearly $2 billion over the next two years to provide 90% of its customers with two-way interactive capability by 2000. Even so, as many as 40% of its customers, those in smaller communities, won't be getting as many channels as their urban counterparts.
Cable also has political battles to fight in Washington, and the newly ordered technology has yet to be put to the test. But Malone and Hindery, seeing the promise of new services and a rush of revenue on the horizon, have the cable giant at the ready.
Before it's here, it's on the Bloomberg Terminal.
LEARN MORE