In The Wreckage Of The Economy...A Tire Tycoon Rides High
Justin Keay
Not so long ago, Bucharest seemed to be a city on the move. Office developments were rising all over to accommodate the expanding private sector. Hardly a day passed without some sparkling new shop or restaurant opening. Traffic jams were filled with expensive Western cars. Today, the building sites lie abandoned, victims of the 6.6% drop in gross domestic product in 1997. The fancy eateries are mostly empty, since few Romanians can afford the prices after inflation topped 150% last year, with living standards down 22% in real terms. "It's a mess right now," says one restaurant owner who puts his menu prices on a blackboard to keep up with inflation. "You never know what's going to happen next."
It wasn't supposed to be like this. Back in November, 1996, Romania was set to be the next big thing in Eastern Europe. A reform coalition had just won a mandate from an electorate tired of neo-socialist government. The coalition promised speedy privatization and restructuring. Instead, the ambitious plans fell victim to internal squabbles and Prime Minister Victor Ciorbea's weak leadership.
On Mar. 30, the government fell, so Romania's battered hopes now lie in the hands of Prime Minister Radu Vasile, who took office on Apr. 2 with promises to rekindle reform. A first step will be to persuade the International Monetary Fund to resume its $410 million standby loan arrangement, agreed to a year ago but halted in October with less than a third of the money disbursed. Convincing the IMF that reform isn't dead would help woo back foreign investors. "Western companies are extremely apprehensive," says Petre Datculescu, head of Romanian market research group IRSOP.
So are most Romanians, and reassuring them won't be easy. In early March, fuel prices jumped 50% overnight, while inflation is still running at more than 100%, putting many products out of reach of the poor. Things are even worse in the countryside. Late planting last year is expected to bring a poor harvest, while layoffs in mining and heavy industry and the failure of the private sector to take off have reduced many areas to near-penury.
Given such suffering, it's unclear how Vasile can kick-start reform, which will involve laying off many workers, overhauling huge, communist-era dinosaurs such as the Galati steel mill and the Dacia auto plant, and cutting state spending. Privatization promises are not being kept: Some 3,000 enterprises were to have been sold this year, but as of mid-April, virtually none had been.
LOATHING. And Vasile's goals aren't shared by all in his government--or even in his own party. The Social Democrats and his own Christian Democratic National Peasants' Party are both pro-reform but come from opposite ends of the spectrum, which in the Romanian context means they loathe one another. The former are ex-communists turned fast-track reformers, while the latter are preoccupied with settling old scores such as returning land to its original owners. "It will be a miracle if the government fulfills any of its promises," says one international banker in Bucharest. "These guys can barely agree on what day it is."
Romania's woes have begun to sort the strong from the weak among its tycoons. George Paunescu, a classic crony capitalist with murky links to the former Socialist government, is having cash-flow problems that forced the grounding of his domestic airline, Dac-Air, three months ago.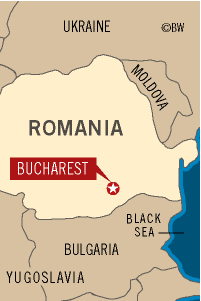 Gelu Tofan, on the other hand, is using entrepreneurial skills to make a fortune from an old-style industrial commodity, tires. Last year, sales of Tofan tires jumped from $90 million to $200 million, encouraging Nomura Securities Co. to invest $60 million in the business. Not bad for a man who got his start as a sales manager in the former state tire monopoly, and who in 1991 tried and failed to emigrate to the U.S. because he felt Romania had no future.
"Staying was not my choice," recalls Tofan, 37, "but when I saw there was no option, I felt it best to stick with the business I knew." Today he's diversifying, building up his Nordest media business, which owns radio and TV stations, newspapers, and magazines. So what should the government do to encourage more businesspeople like him? "Simplify the laws and recognize that what entrepreneurs do is positive for the country," he says. Sounds simple--but not for Romania's warring politicians.
Before it's here, it's on the Bloomberg Terminal.
LEARN MORE