Igen May Be Set To Shine Again
by
For some stocks, no news can be bad news. That's what happened to IGEN International (IGEN), whose electrochemiluminescence (ECL) technology is used in immune tests and nucleic-acid probes. IGEN's stock, which rocketed from 11 in October to 45 on Apr. 2, had fallen back to 34 by Apr. 29. Investors had expected the company to sign up a strategic partner for a new product, and the lack of news about that caused investor dismay.
Not to worry, say some who have bought. George Soros recently upped his stake from 5.3% to 8.7%. "There has been speculation that negotiations with potential partners haven't been going well," notes Herriot Tabuteau of NationsBanc Montgomery Securities. "Our sense is the opposite. Things are proceeding well, and we view the decline as a buying opportunity."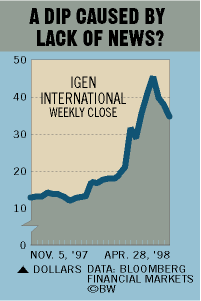 IGEN's ECL system attaches a label to a biological substance that, when electronically stimulated, emits a light detectable during diagnostic tests. IGEN's new miniaturized product, ECLM, has reduced ECL to the size of a deck of cards and can be plugged into any diagnostic device. A large medical-device maker is expected to sign on as partner for the new product. Whispers are that the partner and potential licensee will take a stake in IGEN.
Tabuteau values its core ECL product at 44 a share and the small ECLM technology at a further 40. Conservatively, he says, the stock could hit 70 in a year. George Migausky, IGEN's chief financial officer, says: "We are in discussions with a number of potential partners and expect we'll have one or two deals this year." IGEN's current partners are biggies in health care: Pfizer, Perkin-Elmer, Agouron Pharmaceuticals--and Roche/Boehringer Mannheim, with which IGEN has a royalty dispute.
Before it's here, it's on the Bloomberg Terminal.
LEARN MORE