`He Left Us Living In A Museum'
Elina Huhtaniemi, 22, a student at the elite University of Art & Design of Helsinki, twists a piece of rubber coating onto her experimental chair frame. Scraps of rubber, steel, and wood litter the floor. Furniture skeletons crowd the workshop. A sofa looks like a lizard slithering along the floor. The chair under construction resembles a frog ready to hop. The tall, slim Huhtaniemi sits down on her creation to see if it gives the proper bounce. She smiles with satisfaction. "It's flexible furniture," she explains. "We need some new ideas in Finnish design."
Finns are famous for their clean, streamlined, practical designs, and this year, the entire world seems to be paying tribute. Around the globe, exhibits celebrate the 100th birthday of the greatest Finnish designer and architect of them all: Alvar Aalto. But even as a major exhibit of Aalto's work at New York's Museum of Modern Art receives widespread acclaim and six European cities host their own Aalto furniture shows, present-day Finnish designers are struggling. "Alvar Aalto was a god, but he left us living in a museum," says Huhtaniemi.
Aalto's most famous products--lightweight blond-wood reclining chairs, glass vases with the curves of a Finnish lake, and lamps sculpted out of circular coils--were all created in the 1930s. The designer humanized cold, machinelike, steel-and-glass modern architecture by introducing warm wood beside metal and bathing his interiors in soft light. So pervasive is Aalto's influence that his strong, simple lines and wood fixtures are ubiquitous in Finland, even in the most humble lakeside vacation homes. Aalto is so well known here, in fact, that when I met my wife, Anu, and asked where she came from in Finland, she didn't reply "Jyvaskyla" but instead answered: "Alvar Aalto's hometown."
Aalto died in 1976. So what have the Finns done lately? Not much, as it turns out. A Finnish architect friend recently showed me pictures of his award-winning buildings. They were beautiful. But they were Aalto copies. Most Finnish design slavishly mimics the past, and the country's once famed design companies are facing extinction. "Aalto represents a lost Golden Age," says Laura Ylatalo, exhibition manager of Design Forum Finland, a publicly funded institute that promotes Finnish design. "His shadow is so very, very heavy," she adds, leaning back in a well-worn Aalto chair in her Helsinki office.
"STALE AND TIMID." Finland's economic roller coaster is responsible for much of this creative void. After splurging on a credit-fueled building boom in the 1980s, the country of 5 million fell in to a deep recession. Housing starts, which peaked at 70,000 in 1990, slid to 22,000 in 1992, and now are only 35,000, so scores of architects and designers are out of work.
Even companies lucky enough to benefit from the Aalto connection are struggling. Artek Oy, which Aalto created in 1935 to market his furniture, had a loss last year on just $10 million in sales. Outsiders, it seems, are the ones capitalizing on Aalto. Sweden's IKEA Group, the world's No.1 furniture retailer, with $6 billion in revenues, has done well with Aalto-like furniture, primarily wooden stools and living-room chairs. "We invented everything in the 1950s but let the Swedes sell it," complains Ilkka Suppanen, a young designer.
Artek's future is in the hands of the Swedes. In 1992, Sweden's Proventus Investment Group bought Artek for an undisclosed sum. It "had grown stale and timid," says President Mauri Heikintalo, a Finn and former construction materials marketer. Artek had not launched a completely new piece of furniture in more than three decades, says Heikintalo, in his office over Artek's flagship store in Helsinki. Down the street is the Savoy Restaurant. Aalto designed its vases and light fixtures. Beyond is Aalto's pure white Finlandia Concert Hall. Nearby, his marble Enso Gutzeit Building dominates the view of the harbor.
In the past two years, Artek has doubled its promotion budget and revamped distribution. It is also sponsoring the MOMA exhibit. Heikintalo's goal is to increase exports from 33% to 50% of sales. "Our home market is saturated," he says. "It's no longer special to have an Aalto piece in Finland."
SNOWCRASH TEST. Hackmann Group, which manufactures Aalto's glasswork under the Iittala name, has its problems, too. Some factories are running at just 50% capacity. "Hackmann has to charge more for its products because of high Finnish labor costs," says Christian Kock, a financial analyst who follows the company for Evli Securities Ltd. "But it no longer has the design image to demand such a premium."
Many of Finland's best design students won't be able to follow in Aalto's footsteps. At the design school, where only one of every 15 applicants is accepted, Inari Manninen clicks on her Apple computer, and a design for a video mobile phone appears. Nokia Corp., Finland's mobile-telephone company, "asked us to imagine the mobile phone of tomorrow," she explains. Many graduates design Web sites, says professor Simo Sade. Finland has the world's highest per capita Internet penetration, and forestry remains its largest industry. "It's difficult to get jobs designing furniture," says Sade. "But if you want to design machines that make paper, you can get work."
Still, not all young Finnish artists are giving up the dream of becoming the country's next Aalto. Last year, four thirtysomething designers set up Snowcrash to market their own prototypes. Financed by $200,000 in loans, they crashed last year's Milan furniture fair with their own decidedly non-Aalto designs. "We wanted to show the world that something was still happening in Finland," says Ilkka Terho, one of the Snowcrash four.
They succeeded. Critics loved their inflatable light fixture, their skeleton steel rocking chairs, and their digital frescos. Traditional Aalto design makes form subservient to function, but Snowcrash injects fun into the form. Their goal: a funky Finland. "We have almost no wood in our designs," says Snowcrash's Ilkka Suppanen, sitting with his partner in the elegant Cafe Strindberg. Most of the customers here are conservatively dressed, but Suppanen wears jeans and a ponytail; Terho, who sports a Fu Manchu mustache, is all in black.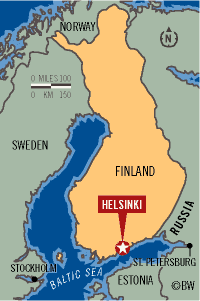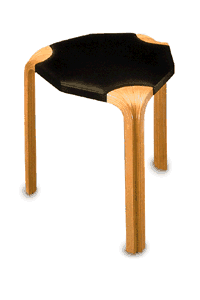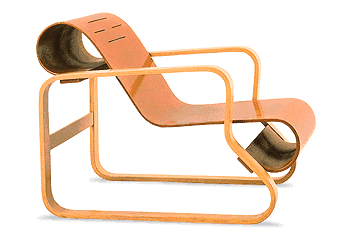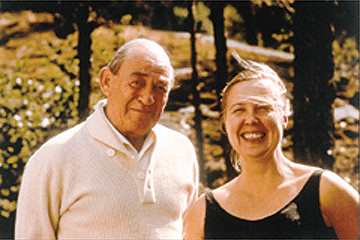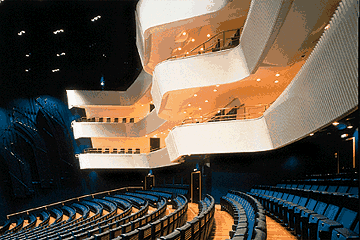 Snowcrash also eschews traditional Lutheran-inspired Finnish financial timidity. The Finns generally sell their designs to outside companies that produce and market them, but Snowcrash subcontracts production and sells in avant-garde outlets such as the Moss Gallery in New York City's Soho. It licenses designs to Italian companies, too. "Finnish businessmen take a look at what we are doing, say, `That's nice,' and don't do anything," Terho says. "The Italians say `Wow, that's cool. Let's do business."'
Inspired by Snowcrash's success, Elina Huhtaniemi has decided to stick with "cool" furniture design instead of paper machines. "I may not be paid gloriously for furniture," she says, rising from her flexible frog chair. "But this is a glorious profession." Now, all it needs is sales.
Before it's here, it's on the Bloomberg Terminal.
LEARN MORE